More than a decade ago, there were very few businesses using cloud technologies in their ecosystem. There were only 12% of businesses using cloud-based apps in 2008!
Today, this story has changed entirely with Software as a Service or SaaS business model gaining traction continuously across the globe. A recent poll by IDG reveals that cloud computing strategies will hold the top position in IT spending in 2019.
This is perhaps the reason the number of organizations shifting their business to the cloud is growing fast: 73% of organizations state that almost all of their apps will be SaaS-powered by 2020.
What is SaaS Business Model?
Gartner defines SaaS solution as "software that is owned and managed remotely by a provider who delivers the software based on one set of common code and data definitions that is consumed, in a one-to-many model, by all contracted customers, at any time, on a pay-for-use or subscription basis."
Adopting a SaaS Business model provides many benefits over traditional on-premise software installations. Let us discuss the top 3 in a little more detail.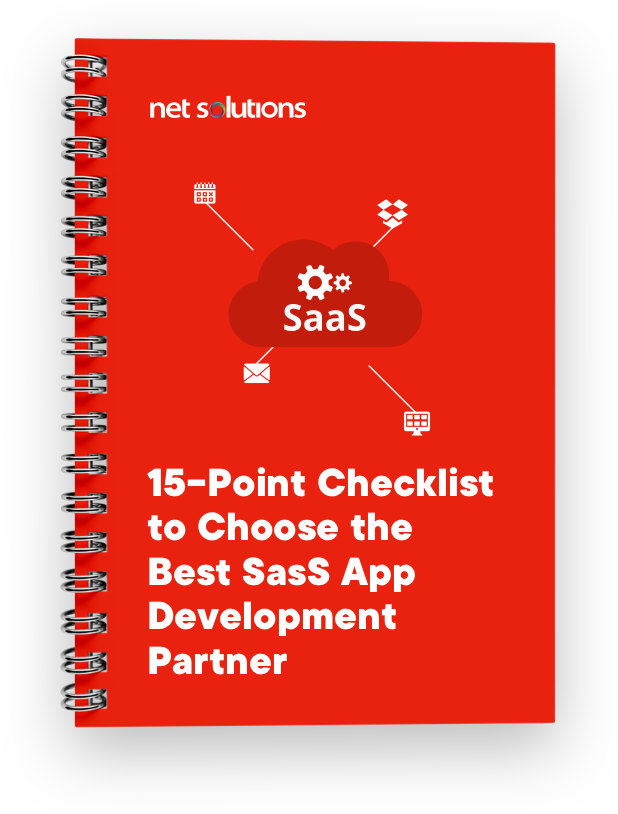 Work with the Best

SaaS App Development Partner

Your Quick 15-Point Checklist

We respect your privacy. Your information is safe.
1. It Saves Customers Time & Money
Traditionally, deployment of large-scale business-critical software systems like ERP and CRM application suites has been a costly and cumbersome undertaking. Deploying them across an enterprise could cost around thousands of dollars. The budget and staff requirements of a deployment of this magnitude indicate a significant risk and expense for a business of any size.
Similarly, businesses are no longer looking to create their own software for the time it would take them to get up to critical mass, even if they had the money & people. The opportunity cost of time lost is unthinkable. Businesses are looking for solutions they can start using immediately.
This is where SaaS business model helps. There is no requirement for the consumer to deploy large infrastructure or to wait for months to start using the software. They just sign up, configure, and are ready to go. Thus, it reduces the upfront commitment of resources drastically.
This is one of the most effective advantages, even study mentioned above claims that the "lower overall costs" is the second biggest driver of SaaS business model adoption. Thus, it is a win-win situation for both the consumer as well as for your business: reduction in time-to-market for your application at a lower cost.
2. Let Your Consumers Achieve High-Security Level With SaaS Business Model
A study by LogicMonitor claims that security is the biggest concern for 66% of IT professionals in adopting an enterprise cloud computing strategy.
Security of customer data is the most vital aspect of the SaaS vendor. Therefore, you will find the servers of SaaS providers scattered in various geographical locations, providing automatic backups. For instance, the AWS Cloud spans 66 Availability Zones within 21 geographic Regions around the world.
Achievement of a high level of security becomes possible with this approach. Thus, most of the SaaS-based applications make your consumers feel secure. It enables them to trust your brand, thereby giving you more business.
3. Easy and Quick to Scale
Supporting an increasing number of users is easy in case of a SaaS business model supported solution.
Your SaaS application is already architectured to address scale. Thus, there is no need for your customers to stuck in the vicious cycle of lengthy requests, testing, changing of the IT architecture, installation of additional software, and waiting. But here they just add users to their subscription plan and they get access to your SaaS solution.
A business that is scaling up also requires additional features. A smaller organization has far fewer needs than a larger business. The tiered approach of SaaS business models allow businesses to quickly sign-up & upgrade to enhanced functionality. They are able to access additional features when their need arises, with an assurance that they will work seamlessly.
'Speed of scale' is the major reason that pushes the enterprises to shift towards SaaS business model. Thus, as soon as your users start to multiply, your SaaS-based application will easily accommodate all of them.
In fact, a study by Oracle mentions that using cloud technology paves the way for SaaS application development with 50% faster time to market. Thus, companies that have moved towards SaaS-based applications already have a fruitful experience to scale quickly.