The global IT outsourcing market is expected to reach USD 425.19 billion by 2026. The outsourcing industry helps pave the way for many businesses aiming to achieve their set digital transformation goals.
Outsourcing has indeed been a go-to option for businesses irrespective of the business size and industry they operate in. Even the most successful businesses have likely outsourced some part of IT at some point.
Here's an outsourcing example. GitHub, the internet hosting provider for software developers using Git, outsourced their MVP (minimum viable product). Github wanted to hire Scott Chacon, a Git expert, to do the job. However, the tight budgets posed a considerable roadblock. So, instead, they outsourced the backend development to Scott and succeeded at reducing expenditures.
Any business can benefit significantly from outsourcing and use it as a medium to improve its bottom line. Here is a guide that discusses everything related to outsourcing.
What is Outsourcing?
Outsourcing is a strategic process of handing over a task to someone outside an organization on a project-to-project basis. In other words, a business pays the money and communicates their requirements, and the outsourced agency does the job for them.
It is similar to hiring an architect to build a house. The landowner pays the money and communicates how they want it to look, and the architect delivers a product that meets client expectations.
The two business entities sign an agreement that mentions the deliverables and other standard formalities.
According to a Deloitte report, the significant objectives of outsourcing include:

Outsourcing is considered an entrenched business practice that acts as a key to enable digital transformation. Every business hoping to increase its value proposition considers hiring an IT outsourcing service as a go-to option.
What are the Different Types of Outsourcing?
Before a business chooses to outsource, it becomes imperative to understand different types of outsourcing, which include:

1.

Onshore Outsourcing

Onshore outsourcing is about assigning a task/job to a third-party provider residing in the same country. In this case, the business can consider arranging face-to-face meetings weekly or monthly to discuss the requirements, work status, and other project management details.
Pros of Onshoring:
Similar mindset, language, culture, and timezone
Easy accessibility to the outsourcing agency
High level of control and monitoring
Cons of Onshoring:
High labor costs compared to offshoring and nearshoring
Lack of skills when looking for talent in a narrowed down region
2.

Offshore Outsourcing

Offshoring is outsourcing to an 'offshore' company, i.e. from a distant country, to perform a particular business function. A typical use case for this type of outsourcing is offshore development services to India.
Pros of Offshoring:
Lower investments in context with labor costs
An excellent opportunity to explore a new market for expanding operations
Tax benefits
Cons of Offshoring:
Cultural and social barriers
Managing the huge gaps between time zones
Communications and language barriers
3.

Nearshore Outsourcing

Nearshoring means outsourcing projects to a business operating in a nearby country (i.e., a country with touching borders).
Pros of nearshoring:
Accessible, in-person communication considering the proximity
Similar culture and time zones
Cons of nearshoring:
Expensive compared to offshoring
Limited options as the business sticks to a constrained geographical location
4.

Insource Outsourcing

Insourcing is about hiring experts for the job in-house and providing them with all the resources to get the job done. There is no need to outsource the job to someone else (who manages the resource requirements independently).
Pros of insourcing:
High level of control and supervision
Complete ownership of processes, technology, and security
A great opportunity to build a "Do it Yourself" culture
Cons of insourcing:
5.

Homeshore Outsourcing

Homeshoring transfers a task or job from an office to a home-based setting where telephone and internet settings are available. In other terms, homeshoring is about getting work done in a remote setup.
Pros of homeshoring:
Eliminates work commute, which can help improve productivity
Low operational costs
Cons of homeshoring:
Internet connectivity issues can lead to workflow interruptions
Difficulty managing employees and less control and supervision
6.

Staff Augmentation

Staff augmentation is more like a hybrid model where a business maintains an in-house team and temporarily hires other team members to bridge the team size gaps (i.e., project-to-project basis).
Pros of Staff Augmentation:
A great solution for businesses having an in-house development team
Quick onboarding process compared to a full-time employee
Cost savings as no training sessions are needed
Cons of Staff Augmentation:
Augmented staff might face challenges with adjusting to the organization's work culture
The difference in work culture and ethics between in-house and augmented staff
7.

Multi-Source Outsourcing

Multi-sourcing is an approach where a company outsources from more than one agency. This is similar to a retail business procuring items from different suppliers.
Pros of multi-sourcing:
Offers flexibility and an opportunity to have the best of teams working on different projects
Can be a key to building high-quality, competitive products
Cons of multi-sourcing:
Can lead to work management complexities
Is likely to lead to increased management costs as different teams need to be appointed for managing communication and sharing status reports
What are the Reasons for Outsourcing?
Outsourcing lets a business focus on its core competencies while the technical team handles the development part. Here are some of the qualities of the outsourced team that help accelerate innovation.
Domain Expertise

For a business looking to outsource, having domain expertise is a priority. Building an insourcing team (an in-house team) with adequate talent and expertise can take months or years and adds to the labor costs.

However, when a business invests and outsources, they gain access to the best talent that can understand their requirements, have a stronghold over the process, and showcase flexibility.

It is similar to outsourcing catering for a wedding. All a business needs is to decide the menu. The best chefs work at the backend to give the guests the best experience ever.

Market Knowledge

Outsourcing agencies have experience working for a bunch of clients. They understand the market dynamics and know their capabilities. For instance, an Agile software development company conducts retrospectives frequently.

These retrospectives help them understand what they did right while working on the previous projects, what went wrong and why, and how they can improve and not commit the same mistakes again.

With this knowledge, an Agile team works to improve efficiency and avoids common development mistakes.

Process Discipline

A well-organized development process helps a startup preserve its money while bringing productivity to the table. An experienced outsourced partner will know the ins and outs of the process, which goes beyond the understanding of the SDLC process.

The practical knowledge of the processes will help achieve agility and faster time to market.

For example, an outsourced partner will know what technical debt is and how to manage it, maintain a clean software architecture, and the cost of building an MVP.

Moreover, they understand product backlogs and the importance of backlog grooming, which, in turn, helps in priority-based sprint planning. All this knowledge helps them stay on track and deliver expected results.

Access to Technology Stack

For SaaS application development, access to a valuable technology stack is a must. For example:

When a business chooses to outsource, the burden to choose the right technology stack and talent pool gets eliminated. This significantly helps in focusing on core business operations while also aiding in reducing costs.

Good Knowledge of DevOps

Development and operations (DevOps) have been a primary bind that ensures faster time to market through automation. Hiring DevOps engineers separately for a startup can be expensive and bring risks related to inadequate knowledge and experience.

An outsourcing partner, on the other hand, helps with development as well as maintaining DevOps cadence. They have adequate automation tests that run at the backend and understand the technical aspects of the CI/CD process. This helps introduce a release to the live environment.
Benefits of Outsourcing Software Development
Outsourcing is one of the best options for businesses looking for growth. Here are some of the outsourcing benefits:

According to Gartner, end-user spending on public cloud services witnessed a 23.1% jump this year, followed by a more than 16% increase in 2022
This is where outsourcing plays a vital role. An experienced outsourced partner can help implement an effective cloud migration and adoption strategy free of any loopholes. Moreover, experienced outsource providers help in enabling cloud data security, which is another major concern for any business owner.
What are the Risks of Outsourcing?
Outsourcing can have its share of risks associated with it. Here are some of the most common outsourcing challenges:
Inability to Arrange Physical Meetings

According to traditional practice, the client and the outsourced partner arranges a meeting to discuss requirements, deliverable, budget, timelines, etc. This might be easier with an onshore outsourced partner and more challenging to achieve with an offshore or a nearshore partner.

Moreover, considering the changing sentiments and business dynamics after the pandemic, physical meetings have replaced virtual meetings. However, this can kill the value that physical meetings bring to the table.

No Control Over Regulation

Regulating an in-house team is always easy. The team can be held accountable for the delayed deliverables, and it is always easy to identify impediments that cause delays.

With outsourcing, this type of regulation and accountability takes a backseat. If Agile antipatterns are causing impediments, it will be challenging to get an in-depth view of the situation.

The difference in Time Zones

Nearshoring and offshoring bring significant challenges related to differences in time zones. When one business might be prepping up for the day ahead, the outsourced team might be wrapping for the day.

This might be an issue when the business leaders want to assess the work done in real-time. Discussing work status reports can be taxing in this case since one of the teams will have to stretch work hours to find a suitable time to connect.

Data Security

Sharing sensitive data with an outsourced agency can be a risky business. Cybersecurity is essential to avoid any digital attacks on the data.

However, sometimes no matter how strong the encryptions are, the risk of losing it to an attack stays in the backhead. This is why businesses often hesitate to outsource. In fact, many IT-enabled companies could not afford remote work during the pandemic due to the same data security reasons.

Language Barriers

Software outsourcing companies located offshore or even nearshore may speak a different language or speak the same language in a foreign accent. This challenge is not much of an issue since most countries can speak English.

The business requesting outsourcing will mostly be in touch with the sales team, business analysts, product managers, and product owners. These professionals have experience handling clients from around the world.
The Ultimate Outsourcing Checklist
Here's an outsourcing process highlighting the essential factors and questions that a company should ask before zeroing in on one partner.

Form an Outsourcing Management Team

Appoint a team for managing communication with the outsourced agency
This team will be responsible and accountable for the project's success
Product managers or available C-suite executives can take up the role

Develop Deep Understanding About the Idea

What is to be built?
What user problem will it solve?
What are the standard KPIs for success?
Is it a new product development idea?
Does it have a PoC?

Know What to Outsource

Participate in Building the Product Backlog

What features need to go into building the MVP?
What features should fall under the top, middle, and bottom layers of the product backlog?
Is the outsourced team clear about the objective that each feature fulfills?

Prepare Well-Researched Questionnaire for Conducting Interviews

What are their best projects so far?
What is their software development process?
Do they work on hourly rates or fixed rates?
Will they involve the client at every stage of the development?
What is the average turnaround time?
How do they manage communications?

Be Clear About Expectations

How frequently are the progress status reports needed?
What communication channels should be deployed?
What time will be set for virtual meetups?
How does the client want to be communicated about the issues?

Take Service Level Agreements (SLA) Seriously

Mention the contract details and conditions in a document
The document should also mention deliverables and expectations
Both the parties should sign the SLA

Offer a Perfect Onboarding Experience

Build a requirements document to ensure everyone's on the same page
Discuss the must-haves, should haves, and nice to have features beforehand
Conduct virtual meetings where the client can share screens to showcase their idea of things
Ask questions, seek suggestions and feedback from time to time

Break the Silos

Introduce the outsourcing partner to the in-house team
Make them feel a part of the organization
Conduct virtual coffee meetings to get to know each other better

Be a Good Listener

Listen to the outsourced agency's ideas
Ask what do they think about the presented ideas
Seek suggestions on how to make the product better
Prioritize/reprioritize features based on the team's suggestions
When to Outsource?
Consider outsourcing when:
The business model is product-based — that requires a one-time product development team that can help accelerate launch times
The startup has tight budgets — and are looking forward to reducing the overall development expenditure
When experimenting with the latest digital transformation trends — such as AI and machine learning.
The KPIs of Effective Outsourcing

Clean code

It is essential to ensure that a clean and organized code is maintained that showcases a well-thought-off software architecture. A clean code will ensure that introducing changes to the code in subsequent releases can be accomplished seamlessly, thus helping gain a competitive advantage.

Minimum technical debt

Technical debt is the cost of reworks that come later if the initial development goes off-track. To maintain minimum technical debt, ensure that there are no piled-up bugs that the development team ignores. Also, as stated in the first point, there should be no messy code.

Quality Delivery

The MVP (Minimum Viable Product) should solve the user problems and reflect the core idea in a workable product. The software should not fall short on essential aspects when it comes to satisfaction. These aspects include experience design and functionality.

Frequent Catch Ups

Make sure that the outsourced partner maintains frequent communication. They should arrange weekly or monthly meetups to convey the work status and discuss any challenges. This activity ensures that the client is involved in the process and at every stage of the development.

Ability to Manage Change

Requirements can pop up at any stage of development. Ensure that the outsourced partner acknowledges the new changes and conducts backlog grooming sessions to reprioritize the product backlogs.
What to Look for in an Outsourcing Partner?
Here are the factors to consider when considering options for software development outsourcing team:
Should have hands-on experience with building software. For that, the decision-makers can go through testimonials and request information about past work.
Experience with Agile-Scrum development services
The team hierarchy should be well-organized. The outsourced team should include business analysts, design architects, UI/UX designers, coders, and testers. Having a DevOps team is another value addition
The software development company should be acquainted with the latest digital transformation trends and have hands-on experience with integrating them into the final product
Building MVPs should not sound alien to them. The agency should be the first one to suggest investing in a minimal viable product
Should be flexible enough to adjust to the business requirements and should be optimistic about the idea rather than making counterarguments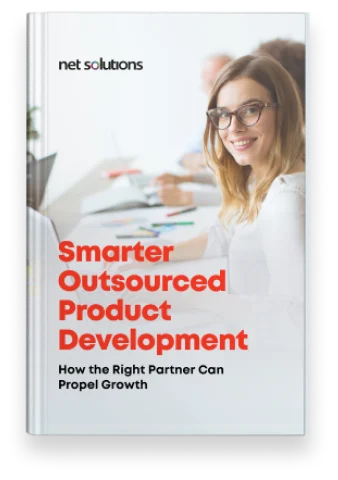 We respect your privacy. Your information is safe.
Outsourcing: Best Practices
Some of the outsourcing practices to follow include:
Maintain transparency and convey the requirements and expectations upfront
Communicate often irrespective of the time zone differences
Ensure that the outsourcing agency has all the security standards and protocols in place
Do not skip on SLAs (service level agreements)
Make quality the cornerstone of the project's success over cost
Do not micromanage the outsourced team. Give them some space, and let the results talk
FAQs Related to Outsourcing
1.

What is the Cost of Outsourcing?

The cost of outsourcing depends on multiple factors, such as the type of outsourcing, the project scope, requirements, technology used, time spent, and the country outsourced to.

However, consider referring to the outsourcing cost guide by Accelerance for a ballpark figure:

Source: Accelerance
2.

What is the Difference Between Outsourcing and Vertical Integration?

Vertical integration is about expanding business presence and reach by establishing offices and operational centers across the globe. On the other hand, outsourcing is about hiring a third-party organization located anywhere in the world to perform a particular job.

A vertical integration example could be that of Google, having offices in about 50 countries. On the other hand, outsourcing would be a scenario if Google hires a third-party software development company to build a new product.
3.

What is the Difference Between Outsourcing and Managed Services?

A managed service helps deliver services such as infrastructure, support, security, network, and applications on an ongoing basis. It offers a holistic approach by providing a set of technology services. The MSP provider uses either the on-premise data center or a third-party data center to provide the signed services. On the other hand, outsourcing provides only a specific service that the business signs for.
4.

What are Some of the Best Outsourcing Companies?

The best outsourcing company is the one that suits the business requirements. When looking for the best, some of the places to look for a reliable outsourcing partner include:
Asking friends in the industry for referrals
Conducting search on social media platforms such as LinkedIn and Twitter
Browsing through sites such as Clutch, Crunchbase, and Goodfirms
Checking out outsourcing company reviews on G2
Conclusion
Outsourcing has existed and will be the mainstay for most businesses, small or big, new or old. It has been a significant help to businesses aiming to prove their value proposition and improve their ROIs.
Consider this guide "outsourcing 101" which discusses the basics of outsourcing. It is a good reference point to start a successful and strategically thought-off outsourcing journey.