Our Financial Software Development Process
Every financial software development company has its own approach to the software development life cycle (SDLC). We follow the Agile software development lifecycle for all our custom software development services, including our banking and financial services clients.
Our SDLC has six main steps: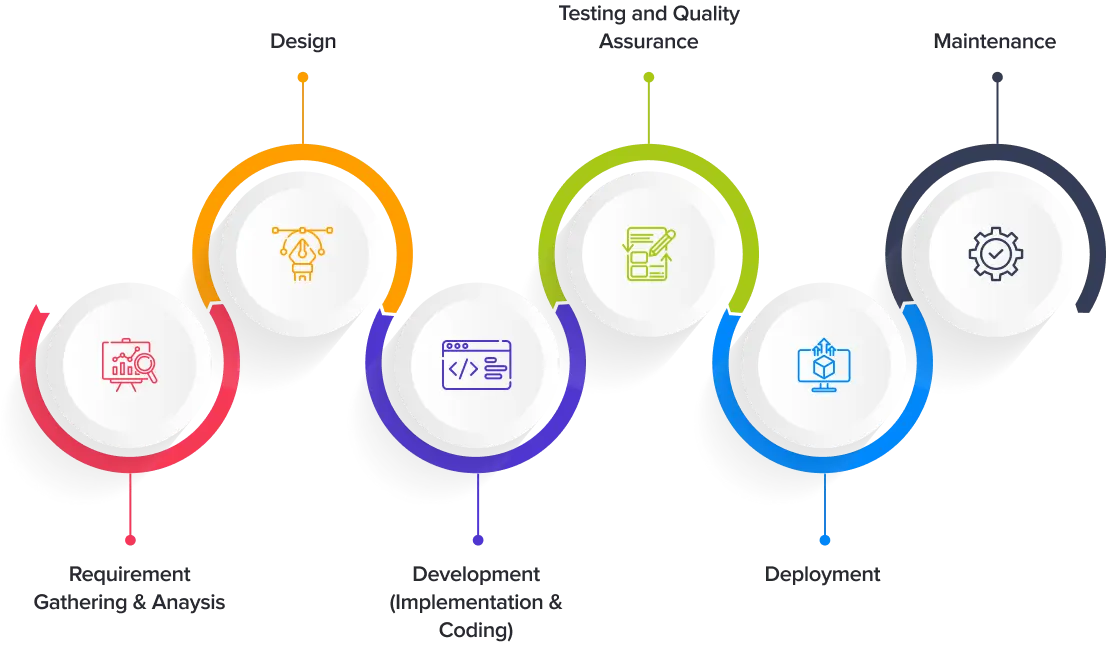 1.
Requirement Gathering & Analysis
We align with you on the problem your product will solve.
We plan for the project's success by setting milestones, timelines, and budgets.
We also conduct a risk analysis and devise a plan to mitigate the risks.
A proof of concept also happens at this stage to validate technical feasibility.
2.
Design
We create the software architecture for quality assurance, clarity, and accessibility.
We focus on UX/UI.
We build a prototype version of the app or software, so the development team and stakeholders get the look/feel, validating the UX/UI.
3.
Development (Implementation & Coding)
Our coders bring the concept to reality.
We focus on delivering as quickly and efficiently as possible using the Agile methodology.
We build a Minimal Viable Product (MVP)
4.
Testing and Quality Assurance
We test the code for bugs and other inconsistencies.
We use automated and manual methods.
Our testers work in tandem with the development team.
5.
Deployment
Once the software is developed, tested, fixed, retested, and validated, it goes into a production environment.
We launch the MVP and quickly iterate from there, resolving any issues and adding features to improve the UX continuously.
6.
Maintenance
Launch is just the starting point; we stay on top of new requirements and technologies.
We help you uphold your software's value proposition with corrective maintenance (fixing bugs) and perfective maintenance (implementing updates).
FAQs About Net Solutions' Fintech App Development Services & Financial Software Development Services
How do you develop a fintech app?
Just the idea that you're asking about how to develop a fintech app shows you're in the right place. 😉 As described above, the Software Development Life Cycle (SDLC) involves several stages, from requirement gathering and analysis to design, development, testing, deployment, and maintenance. Considering the constraints of being in a heavily regulated industry, working with an experienced fintech software development company makes sense.
What is a financial software developer?
A financial software developer is a coder or engineer experienced in developing, deploying, and maintaining (updating) software or apps for banks and businesses requiring specialized financial software development. They may work on the app's back end, like developing payment gateways, or on the front end, user-facing experience, like customer experience initiatives.
Why choose Net Solutions to be your financial software and fintech app development services partner?
With more than 23 years in the software and app development business, we have a seasoned team of financial software developers who are skilled at developing solutions that leverage cost and time efficiencies while maintaining full compliance. Also, we have attained top-level global security certifications, including ISO 9001, ISO 27001, PCI, and TISAX. We are an end-to-end financial software development company.