CUSTOM VUE.JS DEVELOPMENT COMPANY
Enjoy Fast, Seamless Mobile or Web Application Development With Our Vue.js Experts
Ace your business objectives and delight your customers with intuitive UI and UX.
Transform Your Business with Our
Custom Vue.js Development Services
Vue.js is an open-source, progressive JavaScript framework built to be fast, lightweight, and infinitely flexible — the perfect tool to build a next-generation mobile or web application. We're your one-stop solution if you want to outsource Vue.js developers to create incredible user experiences. From analysis and ideation to expert UX design services and throughout the development process, we ensure that your business objectives drive the design and execution of every aspect of your project.
We offer the following Vue.js Web Development Services:
Vue.js Development
As a leading Vue.js development company, we have the technical expertise and core competencies to develop lag-free, fully secure, and easily scalable applications tailored to your unique business needs. Our seasoned Vue.js team takes the natural benefits of Vue.js and leverages its flexibility and speed to accelerate your project's time to market, sharpening your competitive edge and meeting the demands of today's customers' ever-evolving needs.
Request a Quote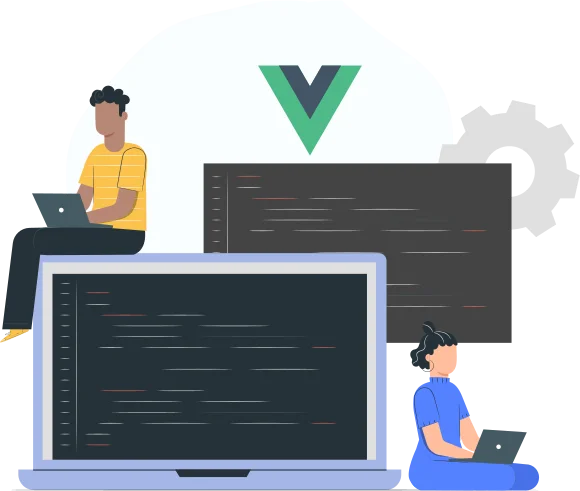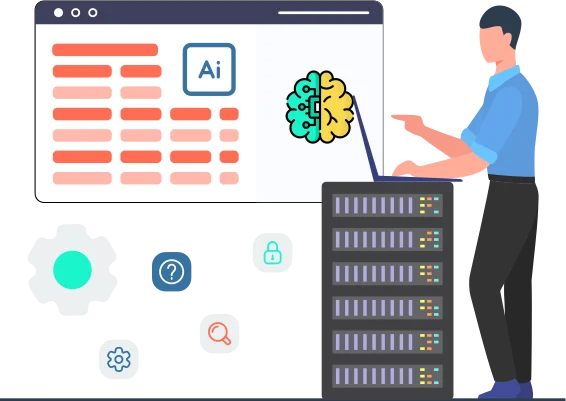 API and Third-party Integration With Vue.js
Our expert Vue.js team creates bespoke applications that seamlessly integrate third-party products for rich user experiences, code maintainability, and excellent scalability and responsiveness.
Request a Quote
Vue.js Component Development
Among our most popular Vue.js app development services is custom Vue.js component development. We design and deliver feature-rich, optimally functional, and reusable UI components for a variety of web applications.
Request a Quote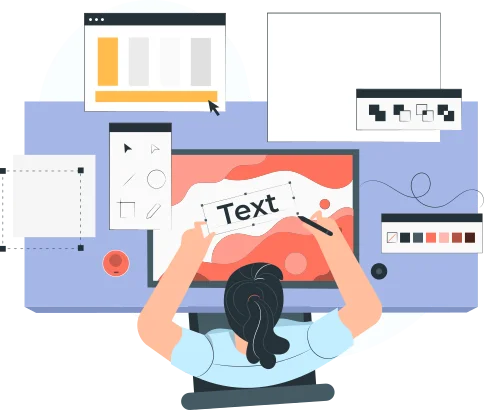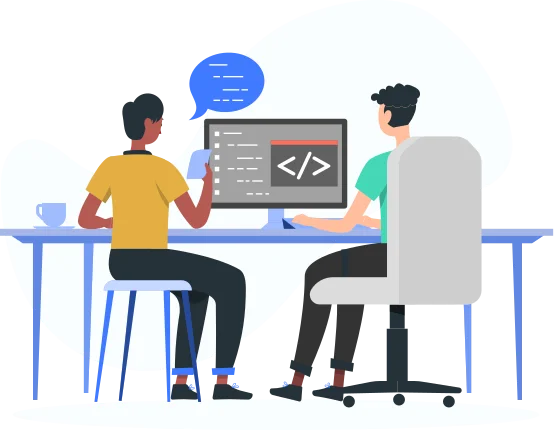 Vue.js Web App Modernization
Whether you already have a core solution using Vue.js or are using another framework and want to update your app or platform's performance, our team of expert Vue.js developers is here to help. We specialize in hassle-free Vue.js app modernization that upgrades your user experience without downtime.
Request a Quote
Vue.js Maintenance Services
In our ever-evolving world, there's no such thing as "set it and forget it." Keeping pace with technological advances and fickle customer preferences is why you should do better than just looking for any old Vue.js developers for hire. When you partner with Net Solutions, we're invested in your long-term business success with expert support services to optimize your workflows and outputs with seamless Vue.js app updates and upgrades.
Request a Quote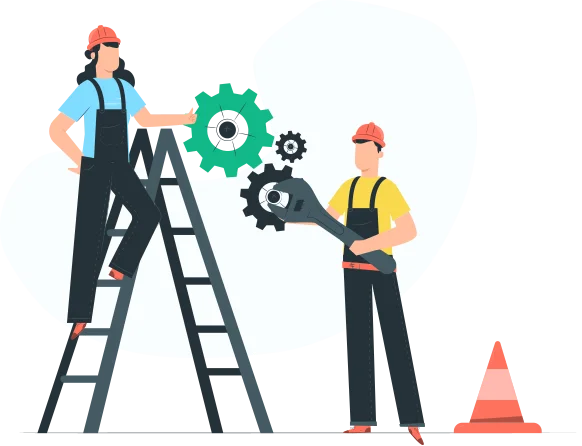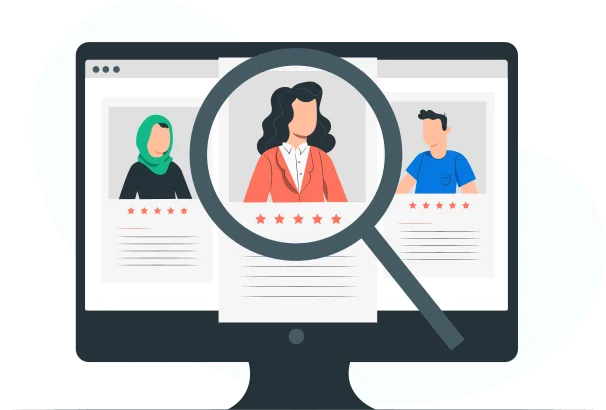 Vue.js Development Team Augmentation
We offer a variety of ways to scale up or down as your design and development needs change. Our Vue.js web app experts can do it all for you or augment your in-house team with our flexible offshore development/dedicated development team model.
Request a Quote
At a Glance: Why Choose Net Solutions as Your Vue.js Development Partner?
We're an industry leader in the JavaScript development space with expertise in Vue.js.

We offer full-spectrum Vue.js development services that leverage the lightweight framework's core benefits to future-proof your business.

Our 12-factor app methodology makes the app development process seamless and accelerated.

We have a carefully vetted pool of talented Vue.js specialists with in-depth knowledge and extensive experience in developing UI/UX design, interactive UI development, third-party integration, and cutting-edge lead generation and conversion strategies.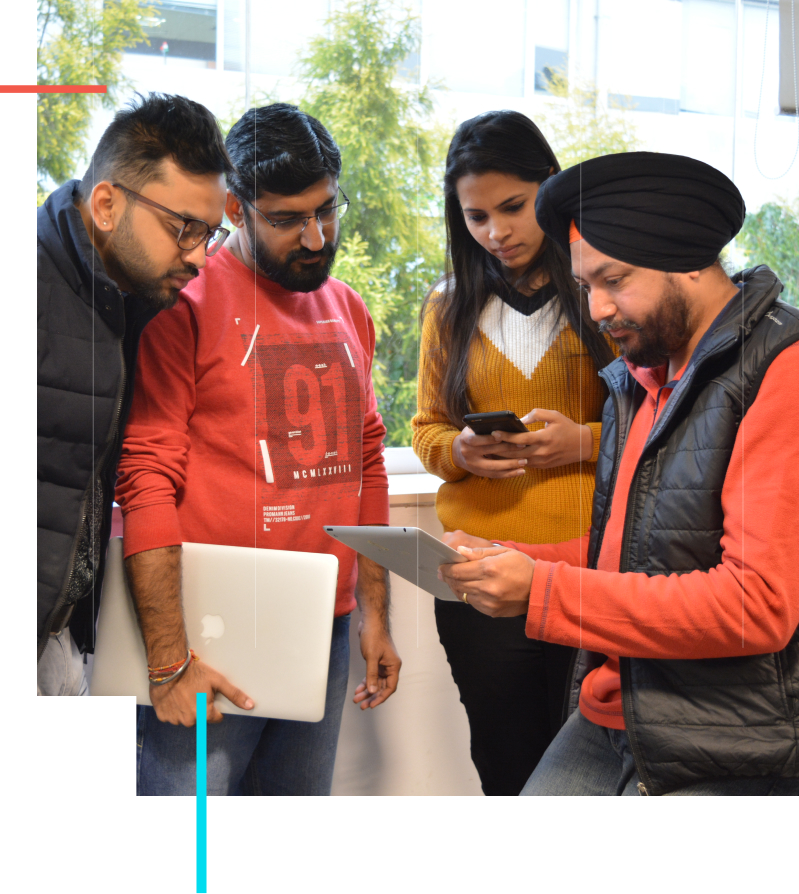 FAQs About Net Solutions' Vue.Js App Development Services
What is Vue.js development?
Vue (pronounced "view") is an innovative JavaScript framework used to build a variety of web and mobile apps and platforms. Using HTML, CSS, and JavaScript as core libraries, it offers a progressive, modular approach to development that simplifies the process of building sophisticated digital solutions. Our developers love Vue.js for its flexibility, speed, and robust community that helps inspire and optimize the engineering process.
Is Vue.js better than React?
As a leading custom web development company well-versed in both Vue.js and React, we value both frameworks for different reasons. But one of the stand-out aspects of Vue.js is that it takes the best features of React (and Angular, too), simplifies them, and delivers an excellent overall perfect user experience. Here's a snapshot of the pros and cons of Vue.js:
Vue.js advantages:
Developers love how lightweight and simplified Vue.js is as a development tool: Because Vue.js makes it easy to build custom apps from scratch and scale existing apps and integrate multiple projects at once, the framework empowers developers to work quickly, accurately, and hassle-free.

Exceptional performance: Thanks to its sleek design, Vue.js is fast and adaptable. Notably, the framework features an innate ability to adopt parts of its technology incrementally, which helps ensure its long-term future.

Smartly structured code: The modular aspect of the framework means that each code component is stored in discrete files. This makes it much simpler to read and maintain.

Excellent user documentation and a vibrant community: Vue.js is unique among other JavaScript frameworks in that it provides very detailed documentation for developers. And the community has thousands of dedicated developers dedicated to collaborating and optimizing the Vue.js user experience.
Vue.js limitations:
A relatively small pool of skilled developers: Vue.js is a newer entrant to the JavaScript ecosystem, so finding experienced Vue.js developers for hire can be frustrating. (This is why it's advised to work with a Vue.js development company with a team of vetted developers.)

Narrower capabilities: Compared to the older, more expansive frameworks like Angular and React, there's no question Vue.js is more limited — especially in terms of plug-ins and components.

Language barrier: Vue.js was authored by Chinese developers, so much of the documentation and community are written in Chinese. That means instruction manuals and forum chats must be translated for non-native speakers.
How do you create a website in Vue.js?
Website creation involves several stages, from discovery and ideation to design and development. (Learn more about our Agile DevOps process for web and app design.) If you're using Vue.js, the development process entails using modular code blocks.
What to know more? Get a free consultation with our Vue.js experts.