CUSTOM TELEMEDICINE SOFTWARE DEVELOPMENT
Provide Top-Notch Care for Your Clients With Personalized Digital Healthcare
Deliver the care your clients need while optimizing your operational efficiency for better clinical outcomes and business results.
Telemedicine Development Solutions
The IT innovations in the telehealth space are moving at lightning speed, ever-increasing the opportunity for providers to deliver healthcare services securely and privately for better patient outcomes. As a world-class telemedicine app development company, our bespoke solutions feature expert user experience (UX) design, seamlessly integrated EHR systems, superior video quality, ironclad security, and regulatory compliance ensured by our seasoned QA team. We've also helped our clients set up eCommerce platforms for ordering and tracking prescriptions (over-the-counter drugs and pharmacy transfers).
The following gives you a glimpse at the core features and functions that can be included (depending on your needs) in every telemedicine app development solution we design and build:
Patient Interface
Instant Authentication: Getting started on the app is simple — patients just enter their phone number or email.

Search Doctors: Robust search functionality makes it simple to find the right doctor and filter by key variables (i.e., location, specialty, ratings, care needs).

Physician Reviews: Patients can rate and review their doctor and read others' reviews.

Make Appointments: Real-time calendar functionality, including physician availability, appointment scheduling, and email/SMS appointment reminders, is built-in.

Virtual Visits: Secure, streaming two-way video and/or audio consultations make in-home visits personal and convenient.

Secure Messaging: Patients can chat with the physician or practice in real-time to get information and updates about their health.

Native Mobile Apps: We design and build iOS, Android, and hybrid apps, so your practice is always accessible to your patients (as well as doctors and staff).

Patient History: Patients can access their historical health data anytime, from anywhere.
Request a Quote


Provider Interface
Instant Onboarding: New doctors and administrators can quickly get started on the app by entering their phone numbers or email addresses.

Robust Dashboard: At-a-glance ease meets detailed functionality with a custom dashboard to manage all aspects of the practice and review key statistics and performance indicators.

Patient Management: View patient records, track remote medical monitoring devices, and securely message patients/respond to messages from patients through the interface.

Appointment Management: View all appointments from one central location; add appointments manually and/or update availability from one convenient place.

Seamless, Integrated Billing: Invoice patients immediately following virtual visits and send automatic payment reminders.

Issue Prescriptions: Instruct patients via a custom form delivered in-app or via email on the usage of medications.

Practice Management: Receive reports and review analytics and reviews for areas of practice improvement.

Advanced Functionality: Take your virtual practice to the next level with advanced features, including secure video recordings, prescription/medication tracking, a pharmacy database, and more.
Request a Quote
Our Approach to Telemedicine App Development
While each custom telemedicine software development project has its own unique aspects, our development as a service approach is grounded in an Agile methodology and DevOps culture to accelerate time to market while ensuring compliance and security.

The development stages include:
Business Analysis: We investigate your business objectives (i.e., EHR integration) and regulatory compliance (i.e., HIPAA, PIPEDA, GDPR) alike to uncover specific ways a tailored telemedicine app development solution can support the best outcomes.
User Experience: We consult key stakeholders (i.e., physicians, administrators, health care providers, patients) to create UX roadmaps for smooth, frictionless user journeys.
Telemedicine App Development: From prototype to MVP, we make strategic decisions to use customization or from-scratch design/build to best meet business objectives, healthcare standards, and regulatory requirements.
Quality Check: Our seasoned QA pros ensure seamless functionality and rock-solid security while eliminating bugs and other potential system-related issues.
Data Migration from Legacy Healthcare System: We audit, analyze, and craft an efficient roadmap for smooth data transfer of your critical systems (i.e., EMR/EHR) and uninterrupted business continuity.
User training: We train end users to effectively adapt to your Telemedicine platform's functionality easily and comfortably.
Product Review: In our final review before release, we thoroughly scan the app, checking for vulnerabilities and comparing all aspects against industry coding standards.
Launch: We ensure your telemedicine app launches smoothly and as planned.
Ongoing Support, Maintenance, and Product Enhancements: An important aspect of our remote managed IT services is ongoing services, which include fine-tuning your telemedicine app's features and processes to comply with evolving user needs and the digital transformation of your organization.
At a Glance: Why Choose Net Solutions as Your Telemedicine Development Partner
For more than 20 years, we've been at the forefront of IT innovation in tightly regulated industries, including custom healthcare software development.

We have extensive first-hand experience working with a wide range of healthcare regulations (i.e., HIPAA, GDPR), and we stay on top of ever-evolving healthcare standards through ongoing study of existing and new rules (i.e., HL7, FHIR, ICD-10, CPT, XDS/XDS-I).

Our seasoned team includes telemedicine software development pros with expertise in designing and building world-class telehealth applications.

We follow industry-best coding and testing practices, adhering to internationally accepted standards (i.e., PEP 8, IFSQ) for optimal performance and security.

We are a global company dedicated to removing any communication barriers — we work around the clock to meet our clients' needs.

We proudly operate in a fully licensed (and audited) environment. Certifications include ISO 9001:2015, ISO 27001:2013, PCI DSS, TISAX, Microsoft Gold Certified Partner, and AWS Partner.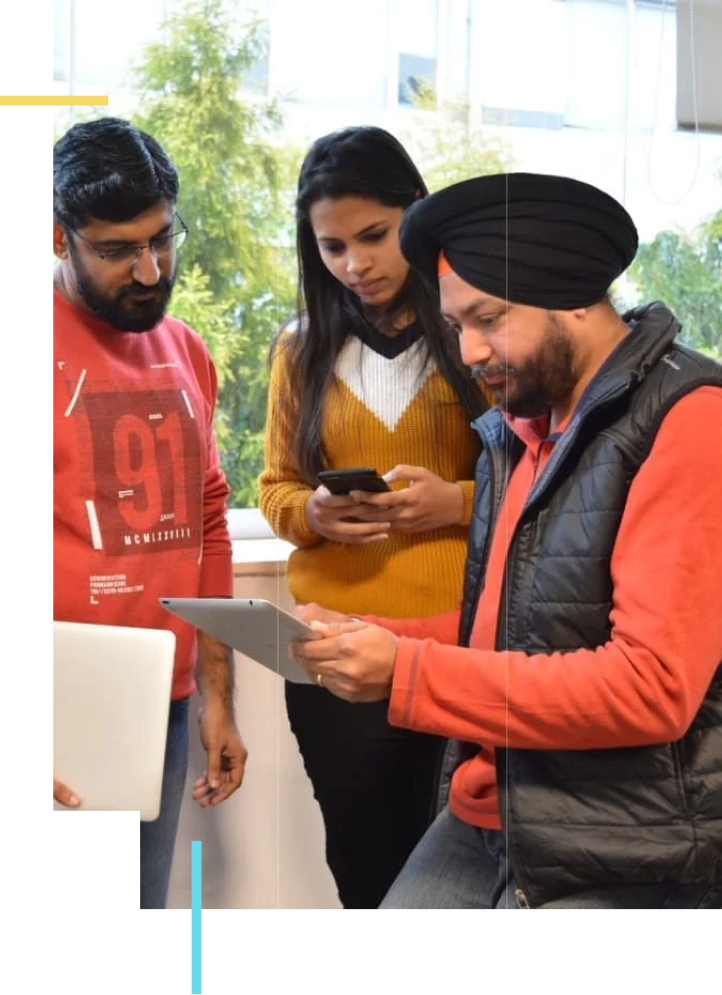 FAQs About Net Solutions' Fintech App Development Services & Financial Software Development Services
What is telemedicine app development?
As explained on this page, telemedicine app development is a growing specialty area in app development that aims at making it easy, convenient, and secure for physicians and other healthcare professionals to interact with their patients from the privacy and comfort of their homes via computer or phone.
The process of developing apps that can handle advanced functionality like seamless video streaming for consultations, real-time data, remote patient monitoring management, and other services is complex, given the parameters of stringent healthcare regulations and the need for strict compliance. But the benefits, including improved health outcomes and greater access to healthcare for more people, make the time, effort, and expense of telemedicine app development worthwhile.
How do you develop a telemedicine app?
As any telemedicine software development company will tell you, the development of a mobile app is specific to your business needs. So, the first step is to take a deep dive into everything that will affect the success of your telemedicine app, from your business objectives to market conditions, competition, internal/external user (persona) development, and desired features/functions to help improve each stakeholder's digital experience (patients, doctors, administrators, etc.).
Once the scope of work is determined based on desired features and functions (see the list of possibilities on the page) and the estimate is approved, your telemedicine app moves into the design and build phase, starting with a prototype and/or MVP. Before deploying the app in the marketplace, there is an extensive testing and QA phase.
Finally, when the telemedicine app development solution is proven bug-free and ready for market, it's time to launch! Just remember — launch is not an ending. Ongoing maintenance and upgrades as technology evolves will keep the telehealth experience you provide seamless and secure, improving health outcomes for your patients and productivity for your doctors and practice.
How much does it cost to develop a telemedicine app?
The cost of telemedicine software development depends on several variables, including:
The kind of application desired (i.e., web, mobile, desktop – or all of these)
What platforms do you want to support if it's a mobile app? (i.e., iOS, Android, cross-platform)
Desired features and functions (basic interface)
Desired advanced features and functions (i.e., remote patient monitoring)
Scope of user roles (i.e., physicians, patients, practice administrators)
Scope of the application (i.e., how many people will be using the system simultaneously?)
Data storage needs
Number of/complexity of integrations(i.e., EMR, EHR, practice management software, LIS)
Scalability
Bespoke enterprise telemedicine software development requires a team of professionals, including a business analyst, UX/UI designer(s), a project manager, programmer(s), and regulatory and QA pros. The estimate for a robust telemedicine app may be in the low six figures. If you have a project in mind and would like a better estimate, contact us.