LOW-CODE/NO-CODE APPLICATION DEVELOPMENT COMPANY
Optimize the Power of Low-Code and No-Code Platforms For Budget-Friendly, Rapid Releases
Accelerate your app development with expert product development that takes low code/no code to the next level.
WHO WE WORK WITH
Our Technology Partners
With more than two decades of designing and building ground-breaking apps and platforms, we have been at the forefront of the low-code/no-code platforms explosion. We have first-hand knowledge of the pros and cons of the best low-code/ no-code platforms. And we have developed expertise working with the top enterprise-grade and high-security platforms to deploy high-performing applications with cross-platform functionality.
Here are our top picks for best low-code/no-code platforms, including why we have chosen them as our technology partners:

Recognized by industry experts, including Gartner, as a leader in enterprise low-code application platforms
High performance is its focus (for teams and otherwise)
Expedites the creation process from concept to completion
Empowers developers to design powerful user experiences for highly impactful applications
Make the process of transforming legacy applications simple and streamlined

Consistently a top low-code app development company
Easy customization means rapid deployment of interactive, multi-user applications
Features and templates are dynamic and engaging
Scalable infrastructure supports numerous marketplace integrations
High level of intuitive, visual development elements
Powered by Amazon Web Services (AWS) with top-notch security
Excellent built-in SEO

Top low-code development tool for web apps and cross-platform mobile apps
Supports custom, interactive UI with beautiful design and functionality
A single codebase saves time and money
Deep and vast connectors library

An incredibly intuitive low-code application platform
Data integration and distribution are powerfully enabled
Flexible in supporting app integration, extension, and capabilities
Deep and vast connectors library
A wealth of special tools for professional developers to support innovation
Transform Your Business With Our Low-Code/No-Code Application Development Services
We offer end-to-end low-code/no-code application development services to help you maximize the benefits of no-code/low-code platforms in the short term and over time as your business needs evolve and expand.
Low-Code/No-Code Application Strategy Design
Deciding to use a low-code or no-code platform isn't just about saving time and money — it's about making the best choice based on your business requirement and objectives today and in the future. Our expert development team begins with an in-depth analysis to evaluate all the uses of your app or platform. Then they create a design strategy that prioritizes user experience, agility, and scalability alongside your budget, timing, and resource constraints.
Request a Quote


Custom No-Code/Low-Code Application Development
Our development team specializes in helping you get the most out of the infinite possibilities of the best low-code and no-code platforms present. From customized mobile and web apps and portals to internal business applications, we utilize a rapid low-code app development process to quickly prototype and iterate your software solutions so you can expedite your time to market and deliver an exceptional user experience across the board.
Request a Quote
Digital Transformation
Just because low-code/no-code platforms make it faster and easier to modernize your business systems doesn't mean it's turnkey. We help you make the best decisions possible to upgrade your user experience without interruption, integrating legacy IT seamlessly and ensuring compliance as needed. The result is customized software that helps you automate and optimize your business processes, increasing productivity and efficiency while streamlining your operations.
Request a Quote


Modernize Outdated/Legacy and End-of-Life Applications
Low-code/no-code technology makes it possible to modernize your legacy applications more swiftly, retiring what no longer serves your business and replacing it with state-of-the-art technology. As your partner in this essential aspect of life-cycle development, our low-code/no-code experts help make a seamless switch, preserving data integrity and prioritizing your team's comfort with new features, functions, workflows, and processes.
Request a Quote
Ongoing Support and Maintenance Services
Like any other software, low-code/no-code platforms must be updated and upgraded to keep your business running without interruption and as optimized as possible. Our platform specialists are always on top of the latest advances in software and are dedicated to keeping your business operating smoothly and efficiently.
Request a Quote

Low Code Application Development Use Cases
There are countless ways that low-code and no-code platforms can help you revolutionize your business while saving you time, money, and resources. The following use cases give you an idea of the vast opportunities for robust, flexible applications that this technology provides:
Digital banking
Safe, secure, mobile-friendly applications
E-commerce
Receive payments, manage inventory, and location-based features (i.e., currency)
CRM
Stay connected to customers, increase sales, and improve profitability
Field inspection
Enterprise-level inspection reporting for properties, vehicles, and more
Appointment scheduling
Share calendars, book/cancel meetings, and get reminders and notifications
Social media
Facilitate sharing, connection, and engagement between registered users
Marketplace
Connect customers with service providers
Listing directories
Industry-specific directories (i.e., real estate, job boards, and more)
File management
Save, organize, and share files
Internal organization
Connect your team asynchronously (i.e., an intranet)
Human resources
Manage team members from hiring through exiting (i.e., employee onboarding, leave management, employee directory, digital exit interviews)
Booking
Reserve and cancel bookings (i.e., car rentals, hotel reservations, restaurant reservations, and so on)
Medical staff scheduling
Manage clinician schedules and coordination of patient care
Budgeting and estimation
Empowers sales teams to do estimates and budgets and receive approvals on the go (i.e., construction, vehicle repair/inspection, manufacturing)
Asset Management
Track valuable assets (i.e., computers and other digital assets, inventory)
Event management
Plan and execute all aspects of an event
Management system
Manage a variety of operations (i.e., productivity, inventory, transportation, projects, and more)
At a Glance: Why Choose Net Solutions as Your Low-Code App Development Partner?
With more than two decades of experience providing full-spectrum web development services and mobile app development services to businesses worldwide, we are experts in digital strategy for businesses of all sizes, from startups to scale-ups and enterprise companies.

As specialists in UX/UI, we use Design Thinking and a human-centric approach to ensure your app(s) solves your customers' problems and pain points, engages them at all digital touchpoints, and encourages loyalty and repeat business.

Thanks to our Agile methodology-based product development, we help you optimize the built-in benefit and competitive edge of accelerated time to market provided by low-code/no-code application platforms.

We're focused on how the latest technology can simplify and automate your process, freeing you and your team to focus on new paths to grow your business.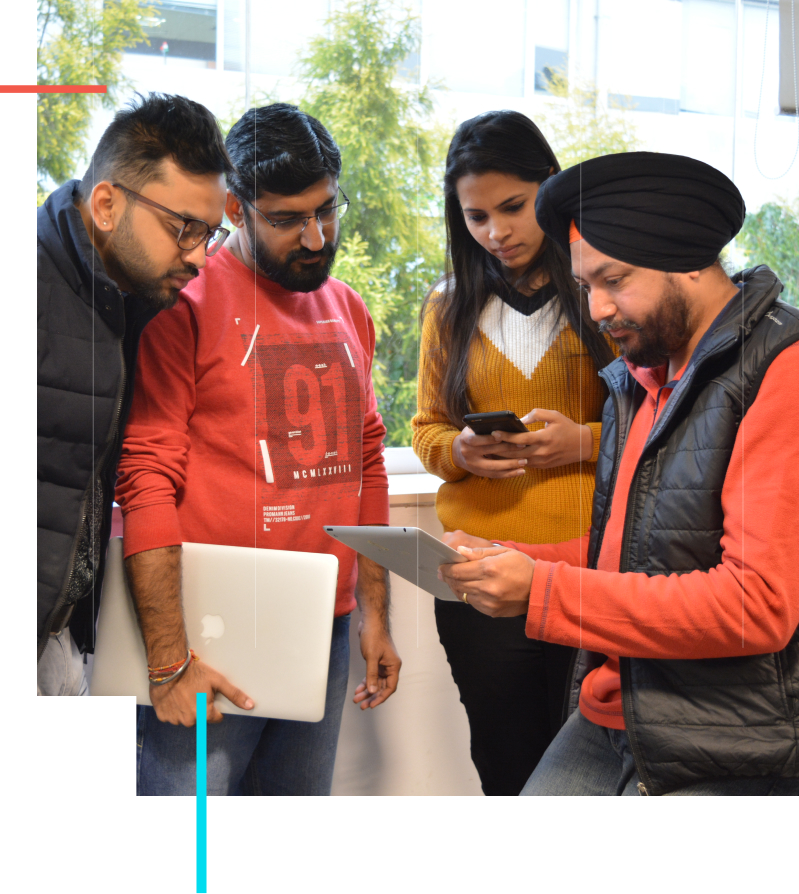 Low-Code/No-Code Application Development FAQs with Net Solutions
What is low-code/no-code?
Both low-code and no-code platforms simplify automating and accelerating application development and deployment.
A no-code platform makes it simple for anyone to create and launch applications using visual tools (i.e., drag and drop, graphical user interface). No experience with coding is necessary.
A low-code platform requires some basic coding knowledge, and it's designed to make it faster, easier, and more cost-effective for developers to create customized software solutions.
What can you build with low-code/no-Code?
The answer is… pretty much anything! The sky's the limit with low-code/no-code platforms for building business applications. And the best part is that chances are you only need a few hours or, at most, a few days to get your idea off the ground — when building applications with basic functionality and attractive features used to take much longer.
Examples of low-code/no-code applications include:
Customer Relationship Management (CRM)

Project and Task management

Help Desk

Travel and Expense management

Human Resource Management System (HRMS)

Employee self-service

Asset management

Procurement
Low-code/no-code application development services deliver the full application development life cycle from concept through development to deployment and ongoing maintenance. Low-code/no-code supports companies in optimizing the impact, speed, and delivery of enterprise without compromising the UX, functionality, and logic of the application.
What's the difference between low-code vs. no-code?
No-code applications were developed so ordinary people (aka "citizen developers") with little or little technological know-how could quickly and easily create applications. In other words, you don't need to know programming languages to create a functional and appealing application.
On the other hand, low-code app development involves having at least some coding ability. You don't have to be an expert, but if you are, a low-code application platform empowers you to speed up the development process by minimizing the amount of hand coding necessary.
What can industries do with low-code/no-code?
Given the explosion in the low-code and no-code platforms, just about any specific industry niche can be served with specialized features and functions. Here are just a few examples of the benefits of using low-code or no-code technology:
Manufacturing: Speed up processes in diverse areas, from inventory to inspection, audits, and more.

Utilities/Energy: Empower customer engagement and spur sales with customized solutions.

Logistics and supply chain: Mobilize teams to handle crucial tasks from procurement management to reporting, supply chain transparency, warranty management, and more.

Service providers: Automate workflows from scheduling to deliveries, customer management, reporting, billing, and more.
What are the benefits of low-code/no-code?
As you can tell by all we've described, the biggest benefits relate to the savings in time, money, and resources afforded by the best low-code/no-code platforms. Here are a few more specific upsides of this flexible technology:
Anyone can use it: This benefit is in the name — you don't have to be an expert coder to swiftly and efficiently create game-changing, business-building software solutions.

Economical: Save on overhead and person power. Plus, an accelerated time to market means your business accrues financial benefits faster.

Maximum agility: All aspects of development are automated and simplified, from conception through building and testing. Your team can spend more time doing the work than prepping for it!

Supports innovation: By taking the burden off of IT and giving anyone with a vision the tools to get it done, low-code/no-code platforms create space for greater creativity and innovation.

Enhanced productivity: Built into all low-code/no-code platforms are automated processes that increase efficiency by streamlining tasks, identifying and alleviating bottlenecks, and reducing unnecessary steps. You'll move faster and work smarter with the right low-code or no-code solution.