Expert Bigcommerce Development Services
Hire BigCommerce Developers With a Trusted Partner Company
Leverage the power of the world's leading eCommerce platform to drive engagement and convert shoppers from browsers to buyers.


BigCommerce Benefits
BigCommerce is one of the world's top choices for a cloud-based eCommerce platform for a number of great reasons, starting with the fact that it's incredibly user-friendly and quick and easy to get started. Combine that with our expertise as a BigCommerce partner to deliver a personalized, customer-first experience, and your online business will set for unstoppable growth.
Here are the top reasons why you should consider partnering with us in using BigCommerce for your eCommerce platform:
All-inclusive solution
Because it's available as a SaaS platform that we configure according to your needs, you can rest assured that hosting, routine updates, and backups are taken care of — freeing you up to focus on growing your business.
MACH Architecture
MACH stands for Microservices-based, API-driven, cloud-native, and headless — and it's the core of how BigCommerce is structured. As a BigCommerce partner and expert in headless commerce, we help you take advantage of this modular approach to infrastructure to deliver fast, dynamic, hyper-personalized shopping experiences.
Feature-rich
Today's customers expect an online shopping experience as robust and satisfying as real life. BigCommerce comes with leading-edge features that we adapt to best serve your core audience's preferences and needs.
Customizable
While BigCommerce has excellent, out-of-the-box solutions, they also recognize that people often look to hire a BigCommerce web developer to differentiate their store in the marketplace. We have full customization capabilities, along with the experience necessary to leverage as much as what's existing in BigCommerce's ecosystem for optimized efficiencies and budgets.
Easy Management
Once we've helped you create an optimal shopping experience, we set you up for success by integrating critical business systems (i.e., ERP, PIM, CRM) into BigCommerce's centralized management system for lower operational costs and higher profits.
Ironclad Security
BigCommerce comes with top-notch security protocols with encryptions, multiple layers, encryptions, critical compliance, and security certifications. We optimize its built-in security features during development for your peace of mind — and your systems' faster performance.
SEO-friendly
BigCommerce comes with built-in SEO so shoppers can find your site. Add in SEO expertise from our expert developers, and you can leverage the opportunities to customize URLs, metadata, and more for enhanced organic searchability.
Omnichannel Commerce
Today's sales channels must meet customers where they are, and BigCommerce supports the full spectrum of omnichannel commerce, from B2B and B2C to mobile and international. We help you deliver a consistent experience across channels and outlets, including multiple stores.
Cost Effective
One of BigCommerce's biggest benefits is predictable Total Cost of Ownership (TCO), as hosting, updates, and robust features and functions are included in the flat-rate subscription pricing. Our expert developers help you further your budget with the strategic use of plugins, APIs, and customizations.
Scalable Solution:
BigCommerce is built to grow with your business as you expand your digital footprint. You can count on no downtime, unlimited bandwidth, and flexible cloud infrastructure to keep your store high-performing and responsive to your customers' ever-changing desires and demands.
BigCommerce Development Services
As a certified BigCommerce partner and world-class BigCommerce development company, we offer a full spectrum of services, from analysis and planning to implementation, migration, testing, and maintenance.
BigCommerce Consulting
This ingenious, flexible cloud-based solution offers a scalable solution that works seamlessly for you today and grows with you tomorrow. But getting the maximum benefit from this feature-rich SaaS entails expert insight into how to best utilize the platform for B2B, B2C, and even B2B2C success. Our seasoned BigCommerce web developers take a deep dive into your business objectives and customer needs to design a customized, innovative roadmap and strategy for your online sales success.
Request a Quote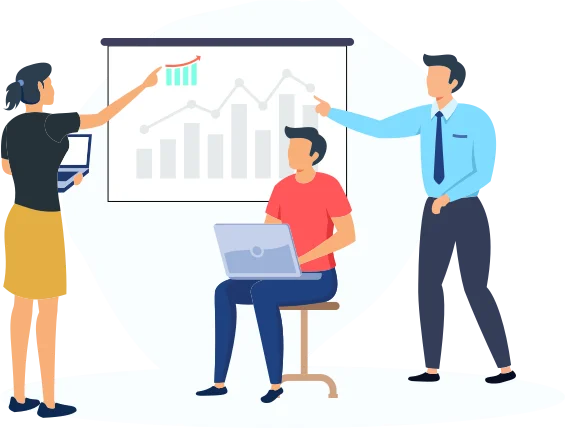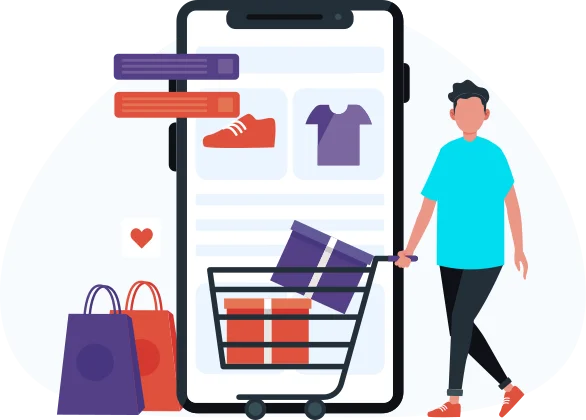 BigCommerce B2C eCommerce Solutions
Thanks to our BigCommerce design expertise, we are experts in developing bespoke retail shopping experiences that cater to your customers with state-of-the-art, optimized UI/UX. And we're equally focused on the usability and functionality of your back end, empowering your team to take advantage of automations and other leading-edge features to make growing and scaling a snap.
Request a Quote
BigCommerce B2B eCommerce Solutions
BigCommerce is a top choice for B2B businesses, with more flexibility than other SaaS platforms and features dedicated to helping you sell more, faster. Our expert BigCommerce developers leverage optimized features and functions to help you support your teams, from sales to marketing, and strategically integrate critical systems (i.e., CRM, ERP) for a seamless experience for business buyers. Plus, we're here to help you efficiently extend your impact with hybrid B2B2C eCommerce solutions.
Request a Quote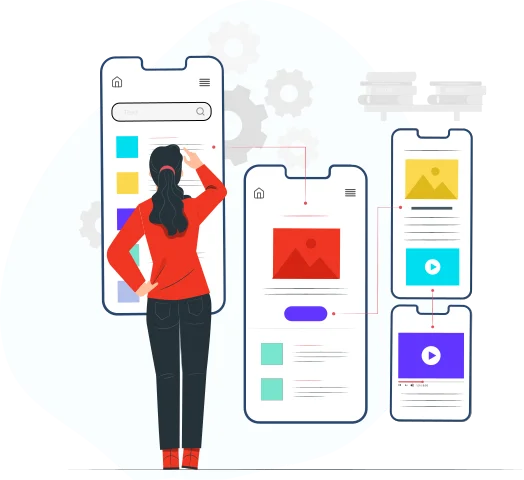 BigCommerce Custom Design and Integration
BigCommerce is a robust SaaS platform, but without strategic customization, you risk being just another online store. Our skilled design team helps you go beyond the canned themes to build a unique, differentiated shopping experience with eye-grabbing design and state-of-the-art features and functions — including seamless integration with other enterprise and product information management (PIM) systems. The result is a fully integrated, scalable solution that not only converts casual shoppers to enthusiastic buyers but also keeps them coming back for more.
Request a Quote
BigCommerce Mobile App Development
For today's on-the-go customers, mobile shopping is a must. Our highly trained BigCommerce app development team is skilled in taking your web-based store and creating a mobile app experience as robust, intuitive, and seamless as your web-based store.
Request a Quote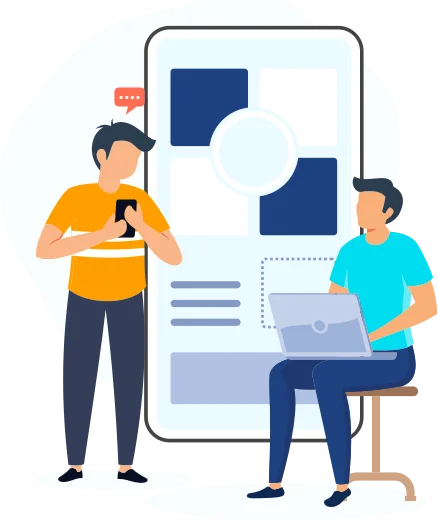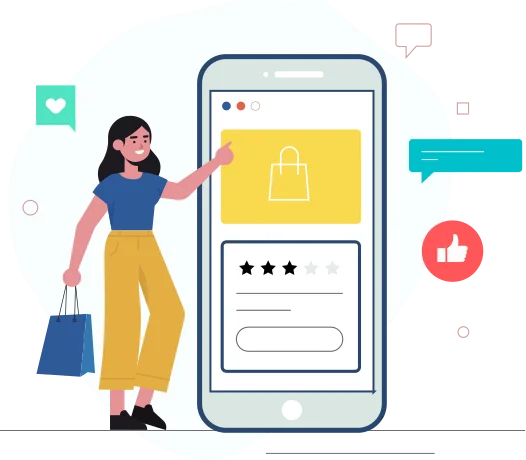 Store Migration to BigCommerce
If your store isn't performing up to its potential, and you're having issues with conversions, features, or management of your current eCommerce platform, then you should consider eCommerce replatforming to BigCommerce for better performance and results. The good news is you don't have to worry about interruption to your existing business because we're not just BigCommerce development pros — we also have expertise in working with other eCommerce solutions, such as Magento, WooCommerce, Shopify, and more. This means we're experts in seamlessly transferring existing eCommerce operations to BigCommerce so you can rest easy that your data integrity will be preserved without any downtime. Plus, we ensure the hard work you've put into SEO is retained as we make the shift from your existing platform to BigCommerce.
Request a Quote
API Integration
One of the biggest benefits of BigCommerce is its extensive API opportunities to extend and expand your store's capabilities. Our dedicated team of BigCommerce experts is skilled in the art of API integration, ensuring that your shopping experience is state-of-the-art and provides your business with all the tools necessary to evolve your offerings and services continuously.
Request a Quote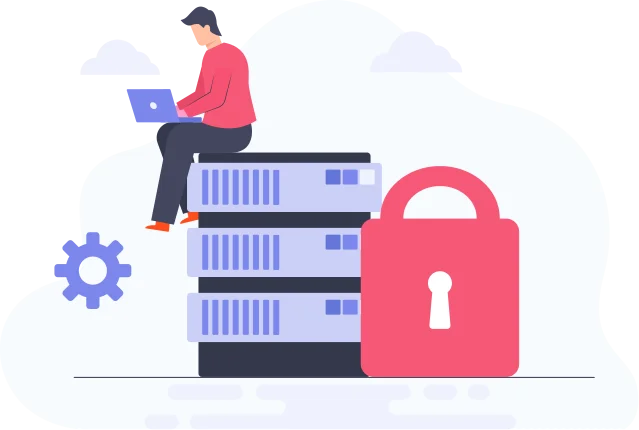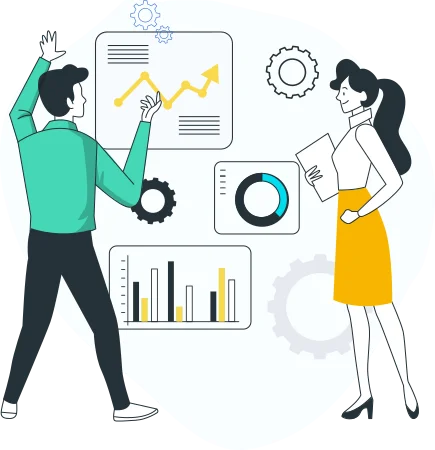 BigCommerce Support and Optimization
The launch of your BigCommerce store is just a starting point. For uninterrupted performance and results, regular upgrades and updates are essential. As a BigCommerce certified partner, we're always on the cutting edge with technical updates that will keep your business future-ready.
Request a Quote
BigCommerce Development Team Augmentation
Just as your eCommerce store needs to expand and contract over time, so will your need for BigCommerce development services. That's why when you hire a web development company like Net Solutions — a certified BigCommerce partner — you enjoy the flexibility to scale your team up or down as needed.
Request a Quote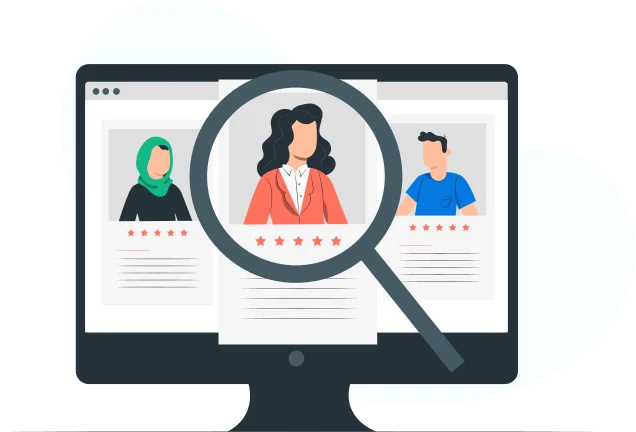 Why Choose Net Solutions For BigCommerce Development?
With over two decades of experience developing B2B and B2C eCommerce solutions across industries and verticals, we've helped leading brands develop and deploy revenue-driving online retail strategies to engage and convert customers, retain existing business in the face of ever-increasing competition, and expand their reach.
We are a certified BigCommerce partner, ensuring our access to extensive resources, advanced training, and dedicated support.

Our BigCommerce-certified developers are specially trained and have hands-on experience with the latest features and functions.

We have extensive experience developing superior shopping experiences guided by our innovative and strategic UX/UI design methodology.

Our BigCommerce developers follow industry-standard practices for coding and testing, with strict adherence to internationally accepted standards (i.e., PEP 8, IFSQ) to simultaneously optimize security and performance.

As a global company, our team is dedicated to removing any communication barriers and is available around the clock to meet your needs.

Your store's security is our top priority — our developers operate in a fully licensed and audited environment. In addition to being a certified BigCommerce partner, we are ISO 27001 and PCI DSS certified.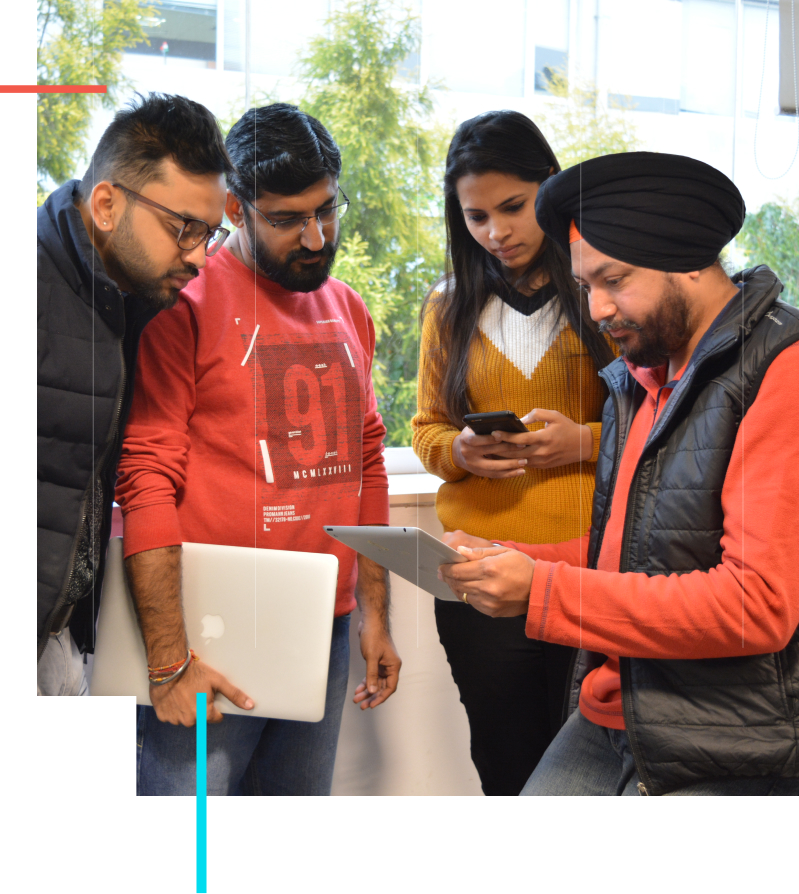 FAQs About Net Solutions' BigCommerce Developers Services
Is BigCommerce open source?
Yes! BigCommerce is one of the top open-source Software-as-a-Service (SaaS) eCommerce platforms for companies of all sizes — particularly mid-market and large businesses. When you use the platform, you enjoy all of the benefits of multi-tenant SaaS, including the fact that it's easy to use, fast, and continuously updated. You also enjoy the platform-wide APIs that empower you to create a customized site and user experience utilizing third-party apps and services. You don't even need to know how to code; BigCommerce's PageBuilder makes updates easy.
What programming languages does BigCommerce use?
BigCommerce uses a variety of programming languages, most notably PHP, as well as .Net, Java, and Ruby.
How much does it cost to build an eCommerce website using BigCommerce?
The cost to develop an eCommerce site using BigCommerce varies and is based on a wide range of variables, from the size and scope of your store to your business goals, plans to grow/scale, and more. If you're using BigCommerce's themes to set up your store and have basic needs, your upfront cost will be minimal. But if you're building an enterprise-level eCommerce operation and running a six- or seven-figure business and you're building a store from scratch, your development costs can run in the tens of thousands of dollars.
The best thing to do if you have questions about how much it costs to hire a BigCommerce developer vs. working with a BigCommerce development company, talk to us. We're a BigCommerce partner, and we're here to help!
Is Shopify or BigCommerce better?
This is an excellent question, one that we could write pages on. So here's the short answer: it depends on your needs. Let's take a quick look at how they're similar and how they differ:
What they have in common:
Subscription-based eCommerce platforms that can work for businesses of all sizes and configurations, from startups to enterprises.
Core store necessities, like the number of products, bandwidth, file storage, online storefront, POS (points of sale), customer support, and gift card options, are all unlimited.
Essential online sales features, including shipping tools, SSL certificate (for online payment protection), and omnichannel sales (i.e., different social media channels), are included.
While subscription pricing depends on the customers' needs (i.e., standard, plus, pro, enterprise), both platforms are similarly priced per month with a discount on annual plans.
Some essential differences:
BigCommerce has more native features, which are scalable — making it simple (and cost-effective over time) to evolve your store.
Shopify has more free and paid third-party apps and scalability happens using those apps from the Shopify app store (which can become costly over time).
BigCommerce has more robust built-in SEO.
Shopify is not just an eCommerce platform; it also is focused on its proprietary services (i.e., payment gateway, shipping/fulfillment, email marketing).
BigCommerce is solely focused on its eCommerce platform — and thanks to its Open SaaS and API-enabled openness, it provides merchants extra flexibility in customizing their stores and experiences and utilizing integrations.
What is included in BigCommerce development services?
As a certified BigCommerce partner, Net Solutions offers full-spectrum development services, including:
BigCommerce Consulting: Get the most out of this flexible, scalable eCommerce solution with our certified BigCommerce developers who can help you design an ROI-driving shopping experience for your customers (B2B, B2C, B2B2C).
BigCommerce B2C eCommerce Solutions: Our seasoned BigCommerce developers can help you stand apart from the competition with a custom-designed store featuring optimized, personalized UX for your customers and time-saving automations that empower your team to take your brand's shopping experience to the next level.
BigCommerce B2B eCommerce Solutions: We help you take advantage of this uber-flexible SaaS platform to B2B selling simple with specialized features and functions and seamless integrations with core third-party systems, like an ERP or CRM. Plus, it's a snap to take it to the next level with a custom B2B2C solution.
BigCommerce Custom Design and Integration: The basic BigCommerce platform is fine for new sellers, but if you want to take your eCommerce experience to the next level, you can count on our expert BigCommerce team to create an attention-grabbing look and a robust functionality powered by strategic integrations that optimize the user experience and make growing and scaling simple.
BigCommerce Mobile App Development: Meet your customers wherever they are, whenever they're ready to shop! A custom mobile experience fueled by BigCommerce's features and optimized by our mobile shopping experts is critical to your online retail success.
Store Migration to BigCommerce: If your existing eCommerce platform (i.e., Shopify, WooCommerce, Magento, etc.) isn't delivering the traffic, conversions, and management you need, our BigCommerce experts are here to help you with eCommerce replatforming to BigCommerce to maximize sales while ensuring business continuity during the data migration.
API Integration: We help you maximize what your store can do through strategic API integration for the shopping experience today's customers expect and demand.
BigCommerce Support and Optimization: Our certified BigCommerce pros can help keep your store running smoothly and optimally with continuous improvements — so you can focus on other ways to build your brand.
BigCommerce Development Team Augmentation: Scale up or down on an as-needed basis by taking advantage of our BigCommerce team augmentation services.
Success Stories
We Help Brick & Mortar Retailers Become eCommerce Powerhouses

Learn how we helped the largest distributor of auto parts in the UK design and build a flagship website with a scalable, efficient, responsive design featuring state-of-the-art eCommerce features and functions that helped the company quadruple its orders in less than four years.

Read Case Study

We Empower eCommerce Businesses to Achieve Global Dominance

Find out how we helped a leading Australian athletic wear brand execute an ambitious expansion into multiple global markets through critical improvements to their digital retail operation, including mobile optimization, lightweight configuration, custom integration of essential systems, optimized shipping, and streamlined workflows.

Read Case Study
We Build Custom eCommerce Platforms That Maximize ROI

Discover how we empowered a leader in golf equipment sales for nearly a half-century to modernize their online retail strategy with a heavily customized, feature-rich CRM that supported a multi-channel eCommerce strategy that boosted traffic, conversion rates, and sales.

Read Case Study