SEAMLESS CLOUD MIGRATION SERVICES
Leverage the Power of the Cloud to Future-Proof Your Business
Turn your business into a 24/7 results-driving machine with a custom cloud solution.
We'll Help Your Define a Cloud Migration Strategy
The first step in successful cloud adoption is migration. When you hire us for cloud migration consulting, you'll find it's not just about the technical tools — our analysts and developers understand that cloud technology is instrumental in solving crucial business challenges. We look at every aspect of your business and ensure that the migration strategy we choose optimizes your budget, scalability, productivity, and efficiency.
Further, as a leading cloud migration company, we have a proven, systematic approach that our specialists tailor to your needs, goals, and environment's complexity. Our cloud migration consulting services involve five essential stages: rehost, refactor, revise, rebuild, and replace.

Rehost: Also called "lift-and-shift," rehost lifts your data and applications from an on-premise setup and shifts it to the cloud, creating a mirror image of the existing system.
Refactor: Also called "lift, tinker, and shift," refactor is about first optimizing the legacy system and then taking on a Platform as a Services (PaaS) approach. This strategy supports developers in experimenting and enables them to take advantage of the cloud platform.
Revise: This is a highly technical approach that entails customizing the core architecture and code of the current system to fit the cloud environment before migration.
Rebuild: When your existing infrastructure doesn't support your evolving business needs and technological advancements, we re-engineer the applications/infrastructure from scratch to take advantage of all the opportunities cloud computing offers.
Replace: Finally, a "replace" strategy is the best option if the current in-house applications are out-of-date or otherwise not suitable for a cloud environment. SaaS application development is part of our custom cloud application development services, empowering businesses to take advantage of the cloud environment while getting rid of their antiquated legacy systems.
Cloud Migration Consulting Services & Cloud Migration Implementation
Unlock the cloud's full potential with leading-edge tools and customized strategies and roadmaps that optimize your business. As your partner in cloud migration, we help future-proof your business without disruption or interruption, saving you time, money, and resources.
Our cloud migration services include:
Cloud Engineering Services
While the migration aspects of cloud adoption are one piece of the pie, the bigger picture is all about cloud engineering — the business side of the transition. By focusing on speed, agility, security, automation, and simplification of complex applications, our cloud engineering specialists design and build a cloud framework that empowers your team to work more efficiently and better serve your customers.
Request a Quote


Cloud Optimization Services
At the heart of our cloud migration consulting services is optimization. We're experts in planning and building innovative, scalable, secure, and compliant cloud ecosystems. We help our clients with in-depth analysis of all core aspects: infrastructure, application setup, data flow, APIs, and database management. Our cloud optimization work results in a streamlined system that supports high performance across all aspects of your business — operations, network, storage, and computation.
Request a Quote
AWS Cloud Services (AWS)
AWS is a leading cloud provider that global businesses, from small businesses to enterprises across all industries and verticals, rely on for innovative, agile, cost-effective cloud computing. For over a decade, we've been providing AWS consulting services — in fact, we're one of the first companies to be designated as an AWS consulting partner. Our team of cloud migration consulting experts has vast experience designing and implementing custom solutions that make AWS migration simple and seamless.
Request a Quote


Azure Migration Services
Microsoft's Azure cloud platform is trusted by global companies for many reasons, from its comprehensive infrastructure (both enterprise and hybrid) to its robust functionality that makes cloud migration simple for businesses and budgets of all sizes and scopes. We're a Microsoft Partner with a full team of developers certified in Azure managed services who are dedicated to making cloud migration a smooth, cost-effective process.
Request a Quote
Platform Migration
Platform migration, be it from an on-premise system to the cloud (i.e., AWS, Azure, Google Cloud) or cloud-to-cloud migration (i.e., AWS to Azure), takes careful planning and meticulous execution. You can count on our cloud migration consulting services to cover every aspect of the process, ensuring compatibility, ironclad security, and data integrity. Our specialists conduct rigorous analysis and comprehensive testing, giving you peace of mind throughout the process.
Request a Quote


Database Migration
If your database(s) are still running on local, on-premise software, you're missing an important opportunity to improve performance, increase scalability, and decrease your operations costs. Our seasoned cloud migration designers and developers are experts in safely and securely migrating databases (i.e., MySQL and MSSQL) to leading cloud providers, ensuring business continuity from start to finish.
Request a Quote
Application Migration
Likewise, moving applications from on-premise to the cloud is a smart, efficient, and cost-effective way to improve your business performance. Our cloud migration services include strategic coding updates and essential modernization to ensure a seamless, disruption-free transition for any time, anywhere application accessibility.
Request a Quote

At-a-Glance: Why Choose Net Solutions as Your Cloud Migration Consulting Partner
We're one of the first cloud development agencies to be designated as a Standard Consulting Partner by AWS (in 2010).
We're also a Microsoft Gold partner and are experts in Azure cloud services.
We work with the leading private, public, and hybrid cloud services, and our team has expertise in all aspects of cloud migration — and are there for you once your cloud-based is established with comprehensive services, including SLA management, efficiency audits, risk and compliance assessments, and much more.
We specialize in cloud-native application design and multi-cloud/poly-cloud strategies.
Your data is secure: our operating environment adheres to strict global standards for IT providers, including ISO 9001:2015, ISO 27001:2013, PCI DSS, and TIXAS.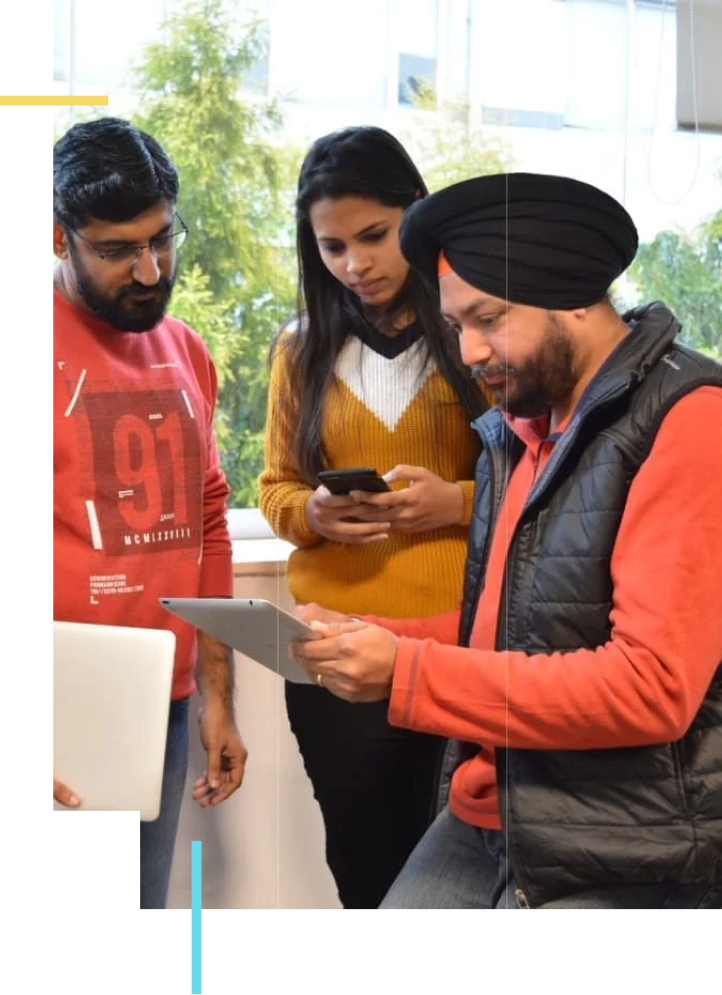 FAQs About Net Solutions' Dedicated
Development Team Services
How do I migrate an enterprise workload into the cloud?
There are a handful of steps you and your cloud migration consulting team will take:
1.Determine your requirements and prioritize: After all, cloud migration is all about realizing critical business objectives. By getting clear on expectations, the style of migration to best fit your company's needs, and what's most important for security, performance, and the server itself, your migration team will be able to make the right choice for subsequent steps.
2.Identify the best provider: As discussed above, there are several excellent cloud solutions, including AWS, Azure, and Google Cloud. Questions to consider include storage capacity, pricing, flexibility, and market share.
3.Finalize the best cloud deployment model: There are three main configurations to consider:
Public: A cloud environment shared by multiple organizations; most IT services rely on this public, shared server environment.
Private: Designed for a single organization's use only — this means the data center is located on or off-site.
Hybrid: Just as it sounds, this is a combination of both cloud environments, public and private, working in concert together. For example, an organization might use the public cloud for handling network loads and a private cloud for IT infrastructure.
Once your cloud migration consulting team identifies the best scenario for cloud migration, a strategy is selected from the "5-Rs" discussed above: rehost, refactor, revise, rebuild, and replace.
4.Alert stakeholders: Digital transformation is a huge change, so it's important to let all employees, colleagues, and vendors know you're moving from a physical system to the cloud.
5.Select migration tools: There are numerous tools to choose from, including SaaS, open-source, and batch processing. Again, your cloud migration consulting team will advise on what's best for your business.
6.App and data migration: With all of your strategies and tools in place, it's time to make the move! Core items to consider in this phase are privacy, security, and compliance.
7.Ongoing maintenance: The migration is the starting point. From here, your cloud team can help optimize your business performance through continuous monitoring and optimization. For example, you'll want to measure uptime performance, identify/review/fix security and use gaps, and keep tabs on virtual machines' memory utilization.
Why migrate to the cloud versus remaining "on-prem"?
There are many benefits to cloud migration vs. having a physical, on-premise infrastructure, including:
Cost-Effective: It's much less expensive to manage your business in the cloud. Most of the top providers, including AWS, Microsoft Azure, and Google Cloud, have pay-as-you-go (aka pay what you use) pricing models.
Virtual access: Moving your organization's operations and administration to the cloud means that your team and other stakeholders can truly work any time, from anywhere— essential in our post-pandemic remote working world.
Future-proofing: The cloud environment is much faster and more responsive, which not only makes your business more competitive now but it also helps sharpen your competitive edge for the future. Also, it empowers your business to take immediate advantage of leading-edge technologies.
Better scalability: With greater space and power comes much greater flexibility to respond to your growing company's needs and desires. Plus, your user base can also increase exponentially without any growing pains.
Increased productivity: Cloud-based businesses no longer have to worry about physical server-related problems like data security, downtime, and post-disaster recovery. And real-time access to information means that your team can get more done faster.
How long does a cloud migration take?
Excellent question! The answer depends on several variables. When you migrate legacy databases and applications to the cloud, there are many mitigating factors, including how many monolithic applications you have and their size and scope.
The more complex your legacy databases and applications are, the longer the migration can take. Keep in mind that a quick migration isn't necessarily in your best interest; risk mitigation and security should be top-of-mind throughout the process. The good news is today's technology is adept at identifying the best applications options and helps accelerate digital transformation while mitigating risk. Your cloud migration company will be able to give you a timeline once they assess all the angles.