CUSTOM LARAVEL DEVELOPMENT COMPANY
Leverage the Power of Developers' Favorite PHP Framework for Building Scalable Applications
Effortlessly build and scale Your digital business With fast, secure and elegant apps.
Transform Your Business with Our Custom Laravel Development Services
Thanks to the technology's flexibility, security, and ingenuity, our end-to-end Laravel web development services are swift, seamless, and cost-effective. Our expert engineers and developers love Laravel's easy modularity, which means creating, building, sustaining, and scaling world-class applications is a snap. From startups to scale-ups and enterprise applications, we offer custom web development services for businesses across industries and verticals, leveraging the creative power of Laravel to deliver tailor-made, innovative solutions.
We offer the following Laravel development services:
Laravel Website Development Services
While the technology is designed specifically to ignite developers' creativity, it takes a talented team of Laravel experts to optimize its features and functionality. Thanks to our Agile, DevOps culture, we can accelerate app creation while delivering exclusive designs, flawless UX, and highly scalable, responsive software solutions.
Request a Quote


Restful APIs Development
Artfully designed RESTful APIs are crucial to your business, making functions and processes run smoothly and ensuring secure, reliable connections between your internal system and third parties. As a top Laravel web development company, our engineers are experts in leveraging Laravel's API generator packages for highly functional, RESTful solutions.
Request a Quote
Third-party Integrations
Optimizing applications' features and functionality can be a complicated undertaking — particularly for enterprise-level apps — unless you have the talent and the tech to make it quick, simple, and efficient. We have a team of pros with deep experience integrating third-party apps that expand secure capabilities and capacities, improving UX, and maximizing ROI.
Request a Quote


Laravel Data Migration or Upgrade
Whether upgrading from one Laravel platform to another or migrating your web application from different tech, our ingenious team of Laravel experts is skilled in the art of hassle-free migrations with no downtime.
Request a Quote
Laravel Maintenance Services
Because launch is just a starting point, we offer ongoing Laravel maintenance services to ensure you get the most out of this flexible, leading-edge technology. From simply fine-tuning your existing app to adding new features and functions to keep up with the evolving demands of your consumers, we're your partner in driving continuous business growth.
Request a Quote


Laravel Development Team Augmentation
Your Laravel development needs will naturally expand and contract over time, and we're here to help you make those transitional times simple and seamless. A top reason to hire a web development company like Net Solutions is that we have the flexibility and resources to work as an extended arm of your company, optimizing your time, budget, and resources.
Request a Quote
At a Glance: Why Choose Net Solutions as Your Laravel Development Partner?
With more than two decades of using leading-edge technology to build and scale online businesses, we have particular expertise in Laravel, the perfect framework for creating exclusive, innovative web and mobile apps from scratch.

Our extensive experience working on PHP ensures that our team can successfully deliver robust development projects following our controlled process from initiation to deployment.

We embrace a 12-factor app methodology for a comprehensive development process.

Besides mobile and web development, we also have expertise in creating custom dashboards, developing APIs, facilitating seamless integrations, and maintaining Laravel applications.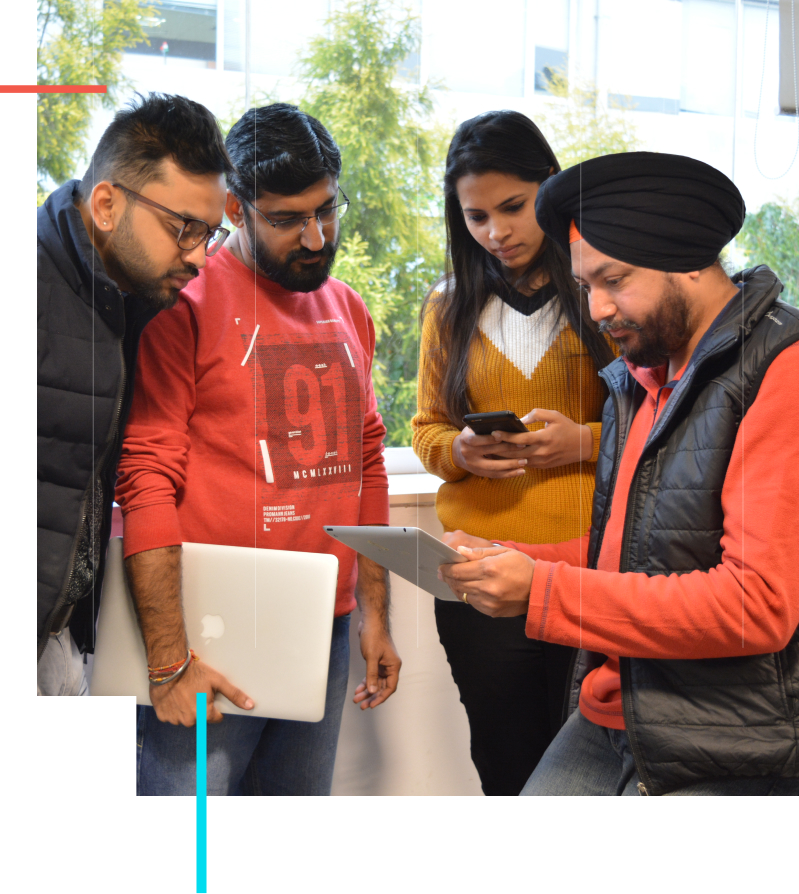 FAQs About Net Solutions' Laravel Web Development Services
What is Laravel development?
Laravel is an elegant PHP web framework created by Taylor Otwell with the intention to make scalable, robust, enterprise-level applications a joy for developers and a delight for end users. It utilizes lightweight, clean code that puts state-of-the-art functionality at developers' fingertips.
Some of the ways that Laravel helps accelerate and improve web development include:
It can be used to develop full-stack apps (meaning both front end and back end).

It supports easy authentication and authorization.

Its "eloquent ORM" empowers developers to make database interactions simple and fast.

As a Model, View, Controller (MVC) PHP framework, Laravel provides top-notch performance, airtight security, and endless scalability.
There are many more benefits to explore, so check out why the Laravel framework is the best for PHP web development.
How long does it take to develop a website using Laravel?
The beauty of Laravel is that development is accelerated, thanks to its elegant, expressive syntax. That said, the scope of work determines how long it takes to develop a website using Laravel.
So, whether you're looking to work with a specialized organization like an eCommerce web design company for a tricked-out, uber-customized, enterprise-sized app or have a simple website, Laravel can help you get your project to market quickly, giving you an essential edge over your competition.
Wondering how long it will take to make your vision a reality? Give us a shout — we're happy to give you a free consultation.
How do I migrate a database in Laravel?
Database migration can be complex, depending on a variety of factors, including the source, destination, kind of data, and complexity of what's being migrated. So, the simple answer is there is no simple answer! That said, a talented Laravel development company that offers end-to-end services can help advise with the easiest, least disruptive options for a successful migration from strategy through implementation and testing. (In other words, please feel free to contact us so we can help you!)
Success Stories
We Optimize Enterprise Platforms Quickly and Seamlessly

Learn how we helped the top beauty pageant platform, which boasts around a half-million daily visitors, deliver an innovative feature in just six weeks — leading to a long-term relationship in which we empower this industry leader to improve its UX, grow, and scale continuously.

Read Case Study