CUSTOM SWIFT DEVELOPMENT COMPANY
Deliver a Lightning-fast, Intuitive Experience for Your Mobile-first Business
Harness the power of bespoke Apple app development for a native, secure on-the-go experience your customers love.
Transform Your Business with Our Custom Swift App Development Services
Our experienced and highly skilled team of Swift developers is experienced in providing end-to-end Swift development services as part of our wider, full-spectrum iOS development services — from strategy to UX/UI design, programming, testing, and ongoing support and maintenance. We focus on ensuring reliability, flexibility, and an exceptional user experience. And our talented team knows just how to select the best Swift language elements to design and build the perfect solution to grow and scale your business.
We offer the following Swift application development services:
Swift Application Development
The Apple App Store is filled with great-looking apps full of functionality — so we understand how stiff the competition can be. As a custom mobile app development company, our creative and development teams have expertise in developing eye-grabbing, intuitive, and highly interactive Swift-based iOS apps. The result is an app that stands out from the crowd in the App Store and earns stellar reviews for its excellent performance, responsiveness, and speed.
Request a Quote


Swift Application Consulting
Today's customers are always on the go and demand a seamless experience across all of their Apple products. Our skilled analysts and developers have deep insight and expertise in user behavior and expectations. And they're skilled in combining your business objectives with your customers' to create a custom roadmap for your app development. By working with our expert Swift app development company, you can rest easy knowing we're leveraging Apple's innovative language to build an exceptional native mobile application.
Request a Quote
Swift Application Testing
To ensure your app is released clean and bug-free, our experienced Swift team provides full-cycle quality assurance and software testing services prior to launch.
Request a Quote


Swift App Maintenance and Porting
The launch of our app is just a starting point; keeping it up-to-date with new features and functionality to improve your UX and meet the ever-evolving demands of your customers is essential. Our Swift team is always on top of the latest technological upgrades and best practices and is here to ensure your app serves your business needs and objectives. This includes porting an application to Swift for Apple OS compatibility.
Request a Quote
Swift App Team Augmentation
When you need to quickly scale your Apple app development up or down, we're here to serve as an extended arm for your business with on-demand augmentation services. You'll save time, money, and resources by utilizing our offshore development model/ dedicated development team model for Swift app development services.
Request a Quote

At a Glance: Why Choose Net Solutions as Your Swift Development Partner?
With over two decades of experience in end-to-end web development services and mobile app development, we've helped global businesses, from startups to scale-ups and enterprise companies, design strategies and develop software that captures attention and converts casual audience members to engaged, repeat customers.

Since the inception of the Apple App store, we have provided end-to-end app development services from initial audits and analysis to strategic modernization planning and all aspects of design and development as we build ROI-driving mobile apps from scratch.

We have developed 500+ mobile apps with more than 10 million downloads.

Our seasoned Swift Application developers and architects are specially trained to design and build best-in-class, optimized technical solutions.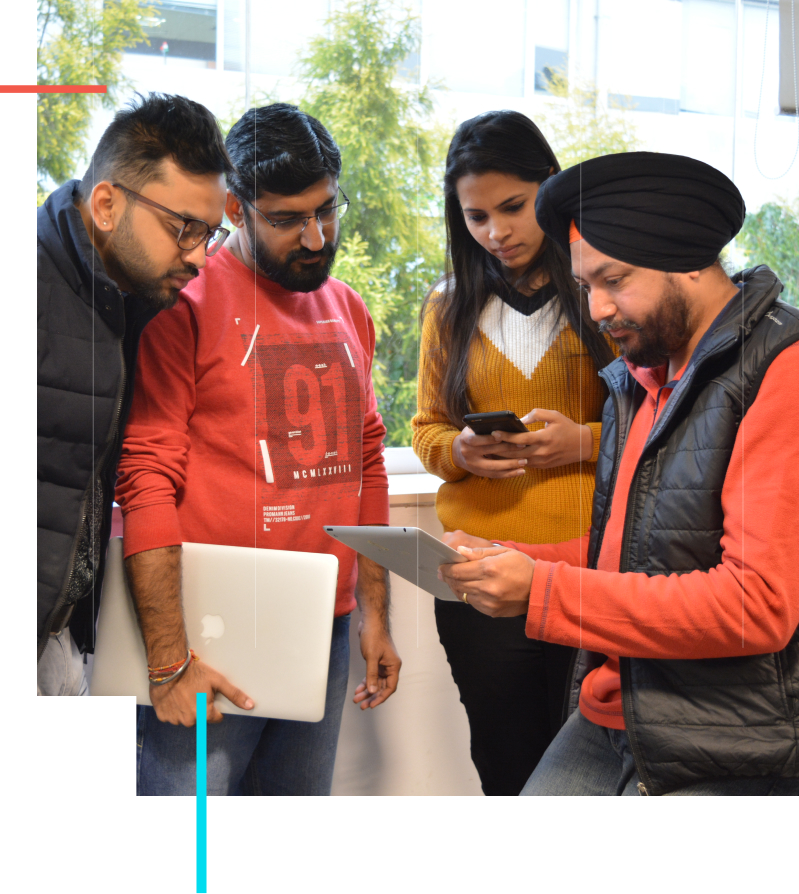 Swift App Development FAQs with Net Solutions
What is Swift app development?
Swift app development entails planning, designing, and developing apps for iOS, Mac (computers and iPad), Apple TV, and Apple Watch using Apple's robust, intuitive programming language. Developers, from newbies to full-time professionals, appreciate the open-source language for its ease of use, flexibility, and powerful attributes. Swift benefits include:
Low memory footprint

Easy to incorporate with existing Objective-C code

Automatic reference counting

A vibrant, supportive community

Support across platforms

Scalable and cost-effective
Working with a Swift app development company can help you maximize your budget and minimize your stress.
Can Swift be used for web development?
In a word, YES! Apple's programming language is extensively used for client-side development (i.e., iOS, macOS, tvOS, and WatchOS). Ever since the open-source developer community made Swift a cross-platform programming language by bringing it to the Linux platform, it has become a go-to programming language for server-side development.
FYI, Vapor is the most popular web framework for Swift, as it's swift, safe, easy to extend, and is integrable with XCode.
Is Swift exclusively used to develop on iOS?
Swift was created by Apple to be used as a programming language for its products, including iOS, macOS, watchOS, and tvOS. Plus, Swift supports other platforms on Apple's operating systems, including Linux, Windows, and Android.