FLEXIBLE OFFSHORE DEVELOPMENT SERVICES
Sustain Growth Through Optimized Staffing & Outsourced Talent
We help you align your organization with the right people, skills, and services to transform your business outcomes.
Benefits of Working With an Offshore Software Development Company
Product and platform development has become increasingly more complicated — and essential — in our age of constantly evolving technology and customer preferences and habits. Keeping software development in-house or opting for onshore development can be expensive, time-consuming, and inefficient compared to working with an offshore software development company. Benefits include:

Lower Staffing Costs & Higher ROI
Payroll is one of the top expenses in any company, thanks to costs beyond salary, including health insurance, payroll taxes, OOO time (vacation, sick leave, family leave), social security, and other benefits. Working with an outsourcing partner means those expenses are covered, so not only do you not have to pay for employee benefits but their equipment and office costs are covered, too.

Enhanced Flexibility
Quickly scaling (up or down) is essential for competitive companies. With dedicated offshore developers, you can easily adjust your staffing needs according to shifts in the market and priorities — empowering you to take advantage of opportunities as they arise.

Faster Time-To-Market
The ultimate edge over the competition involves the rapid release of new products and platforms, features and functions. When you partner with an experienced custom web development company to complement your internal team or facilitate an entire project, you can leverage their skills, experience, and systems to ace your milestones and solidify your competitive advantage.

Increased Talent Pool
Your development needs are diverse — so why limit your options for building digital products and platforms? An outsourcing partner brings a deep well of talent to choose from, along with subject matter experts with hands-on experience and forward-thinking insight to make planning, building, and maintaining custom solutions that leverage state-of-the-art technology efficiently and economically.

Greater Productivity And Focus
Outsourcing partners who "get" you and your business make it easier for your in-house team to focus on core business priorities. We employ a co-creative process that gives our clients peace of mind knowing we're in sync with their objectives and executing product and platform development that supports their vision. At the same time, they are freed up to explore new opportunities for revenue and growth.

Time Zone
The time difference is a significant benefit of working with an offshore software development company based in India. Depending on where you are in the world, we're likely several hours or even a half day ahead of you! That means while you're sleeping, we're working.
Offshore Software Development Services
We provide a full range of offshore software development services for businesses from startups to scale-ups and enterprises. We believe the best digital products are built equally on customer dreams and desires and ingenious implementation of leading-edge technology — and we have a full roster of industry and domain specialists who can handle all aspects of product and platform development.
Services include:
UX Design
Human-centered design isn't a buzzword; it's a critical approach to designing digital experiences that engage your customers and earn their trust and loyalty. Our UX design services ensure every touchpoint in the digital journey is consistent, intuitive, and effective.
Request a Quote


Product Development
We specialize in innovative full-cycle product development, from devising strategies for digital transformation through testing and deployment to post-launch support and maintenance. We work with businesses of all sizes and scopes, so whether you're starting from scratch, scaling, or want to upgrade and evolve a legacy product, our team of dedicated offshore developers can help you create the right product the right way.
Request a Quote
Software Development
When you hire offshore developers, you often find they have only one or two focuses and can't deliver a robust, 360 ° software solution. We have a full-stack development team that can work with a vast array of front-end and back-end technologies to create a wide range of products and platforms, from simple apps to complex Software as a Service (SaaS) platforms.
Request a Quote


Custom Web Development
We like to say, if you can dream it, we can do it. Thanks to ongoing technology innovations, our seasoned web development pros have the tools to create highly personalized, dynamic, future-proof digital experiences that help your company stay on the cutting-edge — and indispensable to your customers.
Request a Quote
Enterprise Mobile Application Development
As a top-tier enterprise mobile app development company, we've worked with many leading technologies since their inception. That means you get a superior level of experience, talent, and skill sets devising and deploying your mobile app (iOs, Android, cross-platform) for optimized UX, performance, connection, and conversion.
Request a Quote


eCommerce Development Services
To convert browsers to buyers and buyers to loyal customers, you must provide a personal, dynamic eCommerce experience. Our eCommerce specialists are experts in building scalable B2B and B2C shopping experiences, from robust sites and mobile apps to omnichannel shopping experiences. We're a leading eCommerce web development company skilled in eCommerce platforms, including Adobe Commerce (formerly Magento), and employ state-of-the-art strategy, technology, and conversion rate optimization (CRO) practices to increase sales and Customer Lifetime Value (CLTV).
Request a Quote
Cloud Migration Services
Moving your online business to the cloud has countless benefits, from higher performance and lower costs to greater productivity, efficiency, and security. Our seasoned specialists design and deliver a pain-free migration process that modernizes and optimizes your infrastructure — and we complete the migration process without downtime for your business.
Request a Quote


AWS & Azure Setup & Management
Your digital experience is your business, so your cloud solutions and infrastructure must be aligned with your objectives for maximum reliability, flexibility, and scalability. As an AWS Solutions partner and Microsoft Gold Partner, our Managed IT team are expert in configuring, optimizing, and managing the leading cloud platforms — AWS and Azure — enabling your team to focus on other areas of business opportunities and growth.
Request a Quote
At-a-Glance: Why Choose Net Solutions as Your Offshore Development Partner?
The key word in that headline is "partner." We care about our clients' success and are focused on supporting their business through periods of both disruption and growth.
We have more than 23 years in full-spectrum software consulting and IT services organization.

We're a global offshore software development company — 95% of our clientele hail from the US, Canada, Europe, and Australia.

We're a one-stop shop for software development; our services include design/UX conceptualization, product/platform/ app development, and ongoing application and infrastructure maintenance and support.

We have a vast team of vetted, experienced software development professionals for consistent flexibility and availability.

We follow internationally accepted industry and coding standards (PEP 8, IFSQ) for developing and testing applications.

Our team is not only trained in technical skills but also professional skills — which means there are no communication barriers.

We have a fully licensed (and audited) operating environment with all essential global certifications. We're also a partner of leading global tech providers, including Microsoft, AWS, and HubSpot.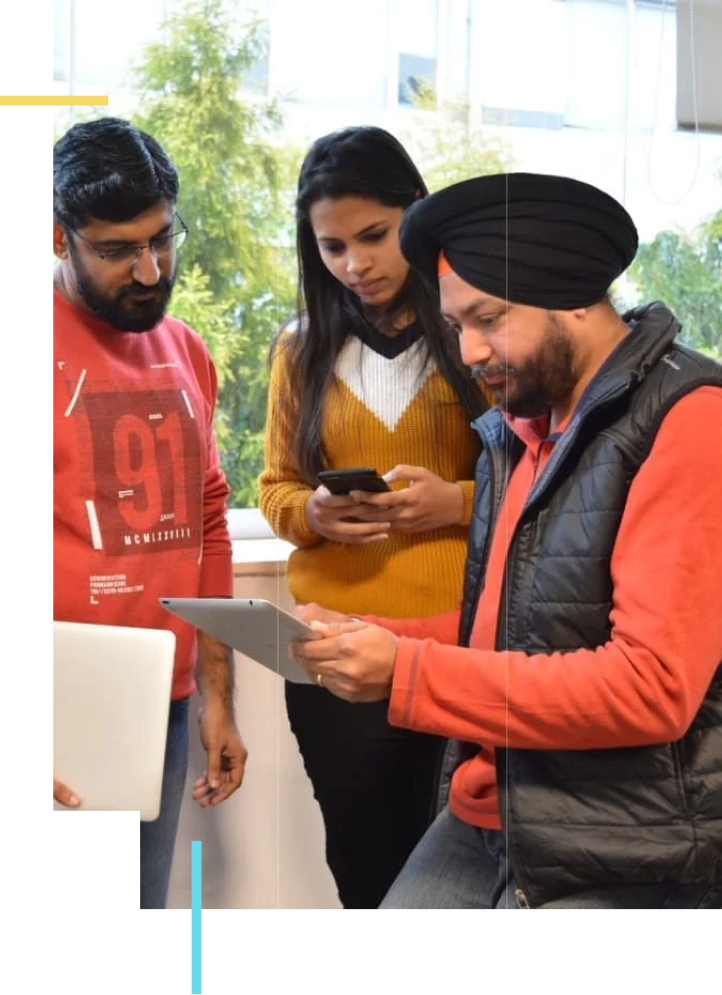 We had a great experience with Net Solutions and would readily recommend it to our friends and colleagues who are building start-ups. The team was resilient and worked effectively with our agile/parallel sprints methodology. The programmers were very good, project management was very efficient and QC team was thorough. Our experience with designing was also great.

ADAM WEINSTEIN

Founder, Engreet.com
FAQs About Net Solutions' Offshore Development Services
What is an offshore development center?
Simply put, an offshore development center is a software development provider located in another country. But the meaning of an offshore development center goes well beyond geography; as discussed above, there are numerous benefits to working with overseas teams, from efficiencies in time, resources, and budget to having a wider talent pool, faster time to market, and greater productivity and focus.
How do I manage an offshore software development team?
Much like managing an in-house team, when you hire offshore developers, you need to ensure everyone is on the same page. Effective management is all about clear communication between both sides. To get started, here are a few things to consider:
Introduction: Have a "getting to know you" meeting where you fill each other in on your professional background, values, and culture.
Communication: Open the doors to effective communication by establishing up front how/when you'll connect. Choose both synchronous and asynchronous modes – set up project management tools, standing virtual meetings, and chat spaces.
Documentation: Get everything in writing! And if you're in a tightly regulated space, be sure that the communication mode you choose includes virtual sign-offs that can be used for official documentation if needed.
Connection: Treat your offshore team members like any other colleague or staff member — as equals. Include them in your business discussions and decisions as much as possible; the more connected and collaborative you are, the better. (That said, keep in mind your offshore team are experts in what they do, so support their autonomy, too!)
How do I hire offshore software developers?
There are many ways to hire offshore developers, from hiring individuals from an online marketplace to working with a firm that offers full-spectrum offshore software development services. No matter which direction you go in, you'll want to be clear on three points:
Budget: How much do you have to spend? You might think working with an individual is cheaper, but a more experienced team can often get things done quicker and less expensively.
Scope of work: What do you need to be done? You don't have to be specific other than your vision for the project — the vendor should be able to spec out the details.
Timeline: How quickly do you need your project turned around?
And if you have questions about hiring offshore developers, you can always ask us.