EXPERT CUSTOM FLUTTER APP DEVELOPMENT COMPANY
Deliver an Exceptional Multi-platform Experience to Your Customers
Leverage the power of leading-edge cross-platform app development with our Flutter experts.
Our Custom Flutter App Development Services
As a Flutter development company, we provide comprehensive, end-to-end services for rapid app development that empowers you to take advantage of the opportunities and beat the obstacles of an ever-evolving marketplace.
We offer the following Flutter app development services:
Flutter Application Ideation & Consulting
If you want a business-driving app that's powerful, fast, and fully responsive across all platforms, Flutter is the perfect tool. In the hands of our experienced developers, we can help you quickly validate your app concept and establish a roadmap and framework to build the app from scratch or optimize your current setup.
Request a Quote


Flutter Application Development
We offer full-spectrum Flutter development services that start with determining product-market fit and go through the prototyping and MVP creation process to a successful multi-platform launch. Thanks to the expertise of our Flutter pros, we ensure that every step of the way optimizes efficiencies to keep your project consistently on time and within budget.
Request a Quote
Flutter Application Testing
Because Flutter utilizes a single codebase, it already minimizes bugs. Our team of testing experts optimizes from there, eliminating any issues and ensuring optimal cross-platform functioning.
Request a Quote


Migration to Flutter
An important part of our iOS app development services and Android app development services includes ensuring that app migration is seamless and pain-free. As a leading Flutter app development company, we can ensure the same UI and business logic is used across all platforms while accelerating your time to market with a product you — and your customers — can count on.
Request a Quote
Flutter App Maintenance
Go beyond the launch with added features and functions and smoother operations with the help of our Flutter optimization experts. Google is devoted to keeping Flutter feature-rich and on the cutting edge; we're your partners in continuously leveraging the UI toolkit's latest innovations for consistently excellent customer experiences.
Request a Quote


Flutter App Team Augmentation
As a full-scale enterprise mobile app development company, we offer multiple configurations for Flutter app team augmentation with our custom software development as a service. Whether you want to scale up or down your Flutter development team, we're happy to work with you to address your needs as they evolve.
Request a Quote
At a Glance: Why Choose Net Solutions as Your Dedicated Flutter App Development Partner?
With more than two decades in digital development, we've helped countless industry leaders craft strategies and design cross-platform user journeys that engage, convert, and retain loyal customers.

Likewise, our mobile development experience goes back to the inception of apps. Today we offer end-to-end Flutter development services from initial app audits and analysis to strategic modernization planning and all aspects of designing and developing mobile apps from scratch.

We have developed 500+ mobile apps with more than 10 million downloads.

Our team of experienced Flutter Application developers and architects dates back to Flutter's inception and are specially trained to deliver best-in-class technical solutions.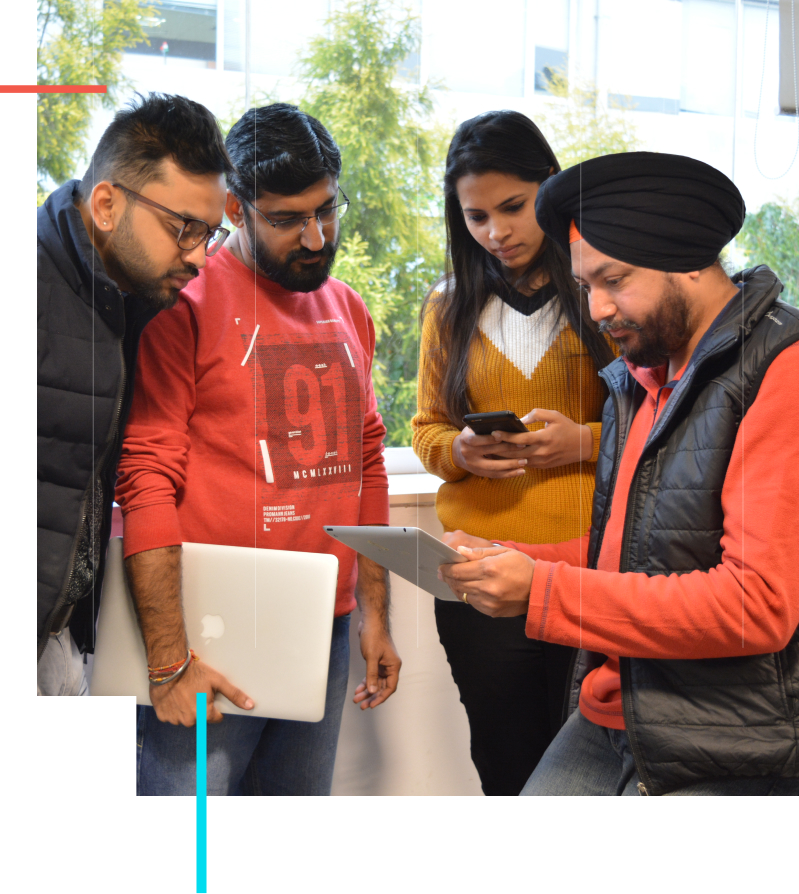 FAQs About Net Solutions' Flutter App Development Services
How much does Flutter app development cost?
Because Flutter uses a single codebase and empowers developers to create beautiful, consistent, native cross-platform experiences, the cost of developing a mobile app using this toolkit cuts costs in roughly half vs. developing each app natively. Plus, Flutter is all about features, so you get more functionality for less money.
This is just getting to launch — beyond that, Flutter over and over proves its value by requiring less maintenance. This means your operations and maintenance budget can be much more modest vs. taking care of a stable of individual native apps.
The upshot is that at any phase, from an MVP to a full-on iOS app in the Apple store or an Android app in Google Play, Flutter can potentially lower your app development and maintenance costs by as much as 60 percent.
Finally, as we are a Flutter mobile app development company, having a full-spectrum of Flutter development services in-house helps us optimize efficiencies that save you time and money across the board.
For an accurate estimate for your specific app, you must factor in several other aspects like features, functionality, integrations, and so on. For more information, contact us.
What is Flutter app development?
Flutter is Google's robust and ever-evolving UI toolkit. This open-source solution is most simply explained as a cross-platform app development framework that uses the Dart programming language. It's best known for empowering developers to design and build iOS, mobile, and web apps using a single code base using the Flutter framework to build native, high-performing apps.
And, of course, we describe all the aspects of Flutter app development and our Flutter development services above on this page.
Is Flutter the future of mobile development?
In a word, yes!
As a leading app development agency for more than 20 years, we have seen many frameworks come (and sometimes go). With the power of Google behind it, Flutter is a constantly evolving, exceptionally robust cross-platform framework with abundant widgets and tools to help developers code and deploy rapidly. Not only does it have a single codebase, but it's continuously becoming more and more customizable, empowering talented programmers to deliver consistently top-notch and aesthetically appealing digital experiences for any device with a screen.
In our age of fickle consumer taste and lightning-fast buying decisions, Flutter is a tool that empowers companies to stay ahead of the curve and always be responsive to their customers' needs and desires.