CUSTOM ANGULAR DEVELOPMENT COMPANY
Quickly Build and Scale Apps That Delight Your Customers
Accelerate your app development with our all-pro team of Angular experts.
Transform Your Business with Bespoke Angular Development Services
When you're looking for custom mobile app development, it pays to partner with an Angular app development company with the experience and know-how necessary to optimize the technology and provide results tied to critical KPIs.
We offer the following Angular web development services:
Angular Development
One of the biggest benefits of Angular is how it simplifies and accelerates the front-end development process. Our team of seasoned analysts, developers, and testing pros is experienced in the art and science of designing and building dynamic, modern apps that delight users and stand the test of time to help future-proof your digitally-driven business.
Request a Quote


API Development and Integration
As a top Angular app development company, we are invested in building custom applications with feature-rich architecture, airtight security, and built-in scalability. The apps we create feature code maintainability and integrate seamlessly for a beautifully responsive user experience.
Request a Quote
Custom UI/UX using Angular
Thanks to Angular's simplified Model-View-Controller (MVC) pattern, modular structure, reusable and consistent code, HTML-defined UI, and built-in validation, our developers have all they need to devise a seamless, robust user experience that better engages, connects, and converts customers for your business.
Request a Quote


Web App Modernization
One of the best ways to up-level your digital experience and boost your bottom line is to modernize legacy applications by migrating or upgrading to Angular with our seasoned team of developers. Using Typescript to streamline codes into modules, we're able to improve inline documentation while minimizing errors in build time.
Request a Quote
Angular Maintenance Services
Launch is just a starting point; to keep your application up to date and continuously improving, we're your partner in providing on-point, custom Angular maintenance. And it's not just about your application's technical aspects; we integrate ongoing Angular-powered upgrades to meet your ever-evolving business needs for better efficiency, consistency, and revenue-driving solutions.
Request a Quote


Angular Development Team Augmentation
Deciding to outsource Angular development is much easier when you know you're working with an experienced provider. Thanks to our offshore development model/ dedicated development team model, we have all you need to quickly scale up (or down) your Angular development team to meet your current needs and maximize time, budget, and resources.
Request a Quote
At a Glance: Why Choose Net Solutions as Your Angular Development Partner?
We are a full-spectrum Angular development company that has worked with the technology since its inception and has extensive experience working with companies from startups to scale-ups and enterprises.

We specialize in delivering fast, high-performance cross-platform applications designed and built from scratch.

Although a robust framework, Angular is just the starting point — we don't just build apps for today. We engineer them to future-proof your business for years to come.

We're an android app development company and also specialize in iOS mobile app development — no matter the platform, we have your on-the-go needs covered.

We use the latest Angular features, including dependency injection, data binding, and routing, to develop innovative, interactive single-page applications.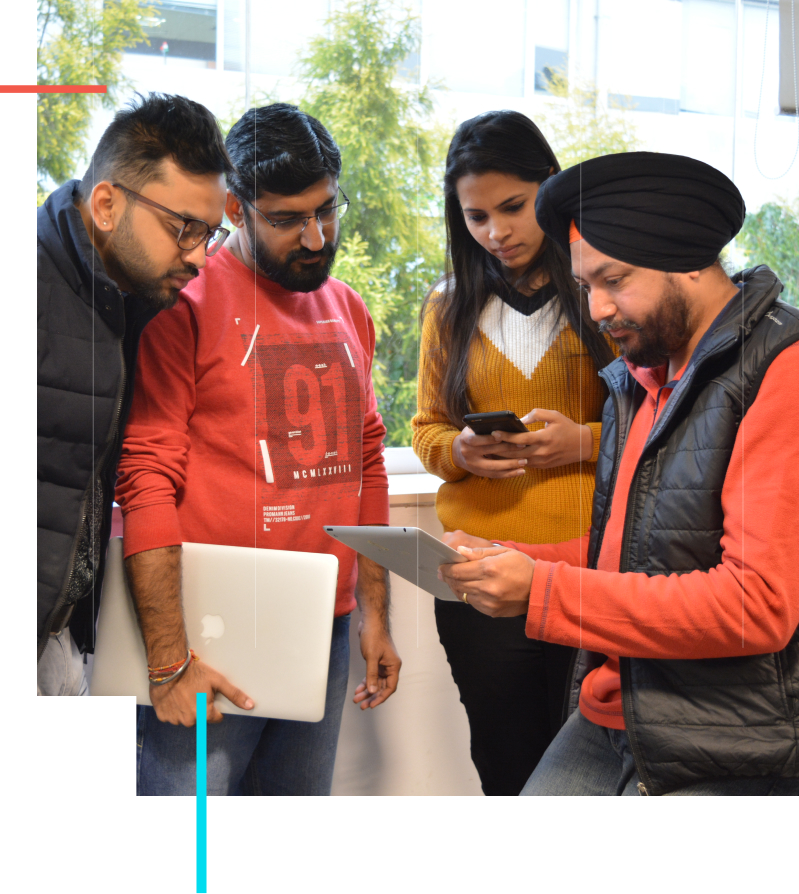 FAQs About Net Solutions' Angular Web Development Services
What is Angular software development?
Angular software development uses the uber-popular framework developed by Google to support dynamic user experiences, lightning-fast responsiveness, and easy code maintainability. The framework uses the JavaScript-based TypeScript programming language, which removes any dispensable code for a more lightweight app design.
When you work with an Angular app development company, you can expect a quicker, more efficient, and cost-effective software development cycle. That's because Angular is component-based, which makes it simpler for skilled developers to build and scale applications.
Can Angular be used for mobile app development?
Absolutely! In fact, Angular is an excellent choice for mobile app development because of its built-in code reutilization between web and mobile. This is why Angular is a popular choice for cross-platform app development. Also, Angular combines well with other mobile app development frameworks, like NativeScript and Ionic, for stunning, feature-rich hybrid apps.
What is Angular in web development?
In the world of web development, Angular is one of the most-used frameworks for a variety of reasons. First and most notably, it's a free, open-source tool from Google that has all the features, support, and functions that developers love, from a variety of features to solid documentation, a declarative, intuitive UI, simplified development, and a modular structure that makes it easy for an Angular web development team to divide and conquer (among other benefits).