February 03, 2018
Starting off the year with great success, we are pleased to announce our inclusion on Clutch's Annual Report of leading UK and Canada companies featuring amongst the 374 most highly reviewed companies from these locations. We have been featured as a leader on the .NET and Drupal Leaders Matrices for both UK and Canada thus revealing our perseverance in these markets. It is pertinent to note that only the most notable and renowned are selected as leaders by means of verified client reviews and Clutch's unique scoring methodology.
Clutch is a B2B Rating and Review platform dedicated to providing buyers with the most accurate market information, while providing sellers the means to distinguish themselves from their competitors. All in all, Clutch covers over 7,000 companies across 500+ industry verticals, ranging from Drupal developers in the UK to answering services. At the core of their company analysis lie client interviews where Clutch reaches out to a company's references to discuss the challenges, solutions, and results of their time working together. Coupling these verified reviews is a unique scoring methodology that encapsulates over a dozen unique quantitative and qualitative factors such as market presence, industry recognition, and clientele. Clutch is thereby able to separate the firms that deliver from those that do not.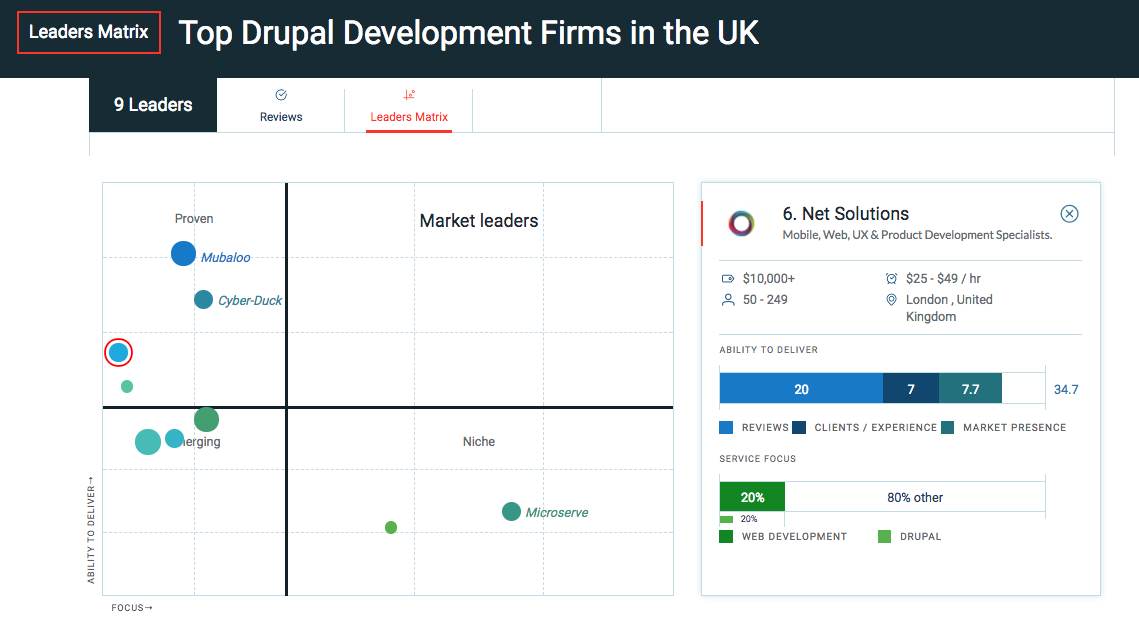 It is an incredible honor to be listed among some of the best development companies in the UK and Canada. Without the strong relationships we've built with our Clients, we may not have made it this far, and their support have been commendable. Here are what our clients have to say about us on our Clutch profile:
"The model keeps on evolving to make sure our needs are met. Net Solutions is very flexible in terms of making changes to the resourcing model. We are very satisfied with all the resources who have worked on our account" - Technology Director of a notable construction company. They further added to explain our dedication to crafting an exceptional final product: "Net Solutions has been very proactive about the solution design. They engage the head of technology, solutions architect, and UX resources to fine-tune the solution designed for us. The project manager orchestrates the full involvement of different teams to deliver a zero-defect solution."
Another client, the Project Lead of a healthcare company, commended on our responsiveness and project management expertise:
"One thing I liked about Net Solutions was their flexibility. Our time zones are off, given that I'm based in the U.S. and they're in India yet they were responsive. I could pretty much expect a response straight away, no matter when I sent them a message." They further elaborated on our team's value and the quality:
"I've been very impressed with Net Solutions' quality of work. Their UX/UI team is especially good. In certain cases, we couldn't figure out a solution for fixing something, however, Net Solutions did. I have no issues with them in terms of code quality or QA process."
To learn more about why we are a Clutch UK and Canada leader in .NET and Drupal development, click here.